The Department of Geography
Note: The major and minor in Geography has been discontinued and Wittenberg University will no longer offer courses in Geography after December 2015. The Registrar's Office is no longer accepting major/minor declarations in Geography.
At the heart of a geographer's soul is a desire to explore and understand the world. The spirit of curiosity and adventure takes geographers into explorations of both the natural and social world. They seek to identify and explain patterns in the landscape, why phenomena occur where they do, and how processes unfold.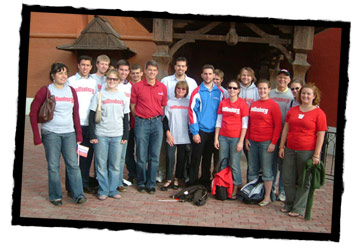 Witt students in Moscow, on one of the by-annual summer trips led by Dr. Olga Medvedkov and Dr. George Hudson.
As both a natural and social science, the discipline of geography is uniquely positioned to address questions that cross boundaries, such as how urbanization impacts river ecology, or how climate patterns affect people's water availability. Combining analytical and pragmatic orientations, geographers address questions that are meaningful.
Latest News
Geographic-based plan to target crime, graffiti
Wittenberg students work with Clark County Prosecutor's Offic to help combat crime and graffiti in Springfield. Read More...
Wittenberg Students Earn Research Awards At Regional Geography Conference

Three Wittenberg students were recognized for excellence in an undergraduate poster and paper competition at a joint meeting of the East Lakes and West Lakes Divisions of the American Association of Geography at Northern Illinois University in October. Read More...
Distinguished Teacher


Growing up in the former Soviet Union, Professor of Geography Olga Medvedkov routinely felt the fear around her associated with any challenge to mainstream thinking. The daughter of physician parents, she witnessed her mother's and father's reluctance to question the regime, knowing full well that other relatives had died earlier in Stalin's purges. Read More...
Two Students Help Secure Millions For The City Of Springfield


For Taylor Hafley '10 of Stanford, Ky., and Philip Hagee '10 of Maineville, Ohio, technological expertise has translated into a substantial investment in Wittenberg's hometown. Formerly in Professor of Geography Olga Medvedkov's Geographic Information Systems (GIS) class, Hafley and Hagee had already conducted a foreclosure study in 2009 for Springfield as part of a class project in response to a $2.2 million grant the city received from the federal Neighborhood Stabilization Program (NSP). Read More...
Wittenberg Professors Prepare To Infuse Internationalism In First-Year Course With Addition of Study-Abroad Option 
 

(Nov. 7, 2008) For Professors of Geography Olga Medvedkov and Ralph Lenz, China serves as a perfect example of the varying levels of globalization. So, when the idea of taking first-year students abroad came to mind, China seemed the best place to study global processes. Read More ...
Wittenberg Students Celebrate Springfield As Part Of Unique Internship Program  
 

(June 11, 2008) Wittenberg Students Celebrate Springfield As Part Of Unique Internship Program As the summer unfolds, four Wittenberg students have made it their mission to celebrate Springfield's assets and continue to build upon the strong town-gown relationship the city and university share thanks to a newly created eight-week summer internship program. Read More ...
Wittenberg Professor To Present Pre-Symphony Lecture   
Wittenberg Professor of Geography Olga Medvedkov will present a pre-symphony lecture at Clark State Performing Arts Center. The Springfield Symphony Orchestra's MasterWorks III, "Rendezvous with Russia," features Russian concert pianist Olga Kern performing works of Russian composers. Read More...

Olga Medvedkov, professor of geography, has published a chapter titled "Upscale Housing in Post-Soviet Moscow and its Environs" in the book The Post-Socialist City. -by Springer Publishers  Read More...
Students' Study Supports Springfield
As part of Professor of Geography Olga Medvedkov's Geographic Information Systems class, seniors Ben Bozic and Walter Kropp compared Springfield with the rebounding "Rust Belt" cities of Muncie, Ind., and Columbus, Ind. Read More...
Matt McDonald, Class of 2009
From the time he was little, Matt McDonald '09 wanted to be a pilot, and today he has a commercial pilot's license. Read More...
Wittenberg Professor Emeritus of Geography Continues Work in Honduras
Wittenberg University Professor Emeritus of Geography E. Leonard Brown first traveled to Honduras in 1974 to study post-disaster housing following Hurricane Fifi. In 1993, his wife, Lottie, a registered nurse, joined him as part of a medical team from Springfield, Ohio. Read More ...
Geography Class Project Results In Multi-Million Dollar Grant For Local Non-Profit
Wittenberg University changes lives every day. In the spring of 2006, Professor of Geography Olga Medvedkov's Geography 390 class undertook a project that would change the lives of residents of Clark County. Read More ...
Wittenberg Magazine: From Russia With Light
In keeping with the university's commitment to global citizenship, 13 Wittenberg students, President Mark Erickson and his family, along with Professors Olga Medvedkov and Gerry Hudson spent time in Russia this summer as part of an intense educational experience. Travel with the group and learn just how far the Witt light extends. Read More...