Health Science Minor
Wittenberg has long offered a variety of courses that are prerequisite courses for many of the health professional schools, and has a distinguished track record of students getting into professional schools in a variety of health fields.  Most careers in the health field require graduate level education at either the Master's or Doctoral level in order to become a licensed, practicing caregiver (physician, dentist, optometrist, chiropractor, pharmacist, physician assistant, physical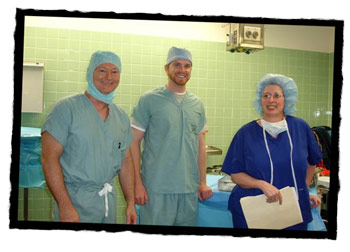 therapist, nurse, etc.).  The Health Science minor is designed to broadly prepare students for matriculation into one of these programs as well as offer an interdisciplinary perspective to students interested in other fields (e.g., health administration).
Our Health Science minor has two major components:
Broad based coursework that familiarizes students with both the basic science and interdisciplinary nature of health science.  An interdisciplinary field by nature, this minor will give students the option of taking courses from Biology, Communication, Economics, English, Health, Fitness and Sport, Honors, Languages, Philosophy, Psychology, Religion, and Theatre and Dance.  This broad course offering allows students to tailor the Health Science minor to their own specific interests while emphasizing the interdisciplinary nature of the health fields in general. 
Significant professional experience allows students to conduct an in-depth exploration of a health related topic that is of interest to them.  The significant professional experience ensures that students will have at least one hands-on learning opportunity in the medical field prior to completion of this minor.  Students will fulfill this requirement by completing their choice of either a:
Clinical internship experience. A formal clinical internship program has been in place for several years and provides students with one-on-one mentored internship opportunities with practicing healthcare professionals. 
OR
Medically related research project.  Students can work with one of several faculty members who conduct medically related research. 
Students pursuing this minor can matriculate into the following types of health professional programs:
--Biomedical Ethics
--Chiropractic Medicine
--Dentistry
--Genetic Counseling
--Hospital Administration
--Medicine (Allopathic and Osteopathic)
--Nursing
--Occupational Therapy
--Optometry
--Pharmacy
--Physical Therapy
--Physician Assistant
--Podiatric Medicine
--Public Health