General Information
Study Marine Science In Ohio? Absolutely!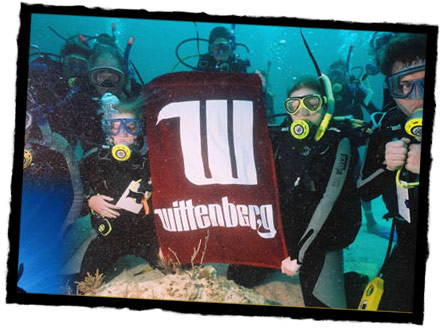 You may be wondering, "Can you really study marine science in Ohio?" We answer "Yes, absolutely!" Not only does Wittenberg offer a variety of marine opportunities on campus, including a Marine Science minor, we have a 30-year tradition of exciting field opportunities at the Duke University Marine Laboratory in North Carolina and the Gerace Research Center in the Bahamas; more recently, students have also studied at the Bermuda Biological station. In addition, our students conduct marine-related research projects here on campus, in our field programs, and during internships at marine laboratories around the world. Many students publish their results and present their findings at national or regional conferences. Our students have found exciting and fulfilling jobs at aquariums and marine laboratories around the country, and have pursued graduate degrees in marine science at top universities including Scripps Institute of Oceanography, The University of Washington, and Duke University.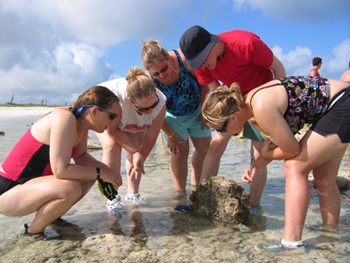 One reason that our program is so strong is that our students study marine science in the liberal arts context. At Wittenberg, in addition to learning about marine science, you will learn to think critically, write clearly, and speak effectively about a wide variety of subjects. These thinking and writing skills, along with your knowledge of the basics of marine science, will allow you to apply your knowledge to the specific field of your choice. Many students ask why we have a minor in Marine Science rather than a major in Marine Biology. We chose to structure our program this way precisely because of the strength of the basic liberal arts education you receive at Wittenberg. The broad background in the foundational sciences, rather than a more narrowly focused major in marine biology, will best serve you as you pursue advanced study or work in the marine sciences, especially if you plan to attend graduate school. In fact, faculty from graduate programs regularly tell us that they prefer to work with our students, because they have a clear understanding of basic concepts, and can think critically and write well.