Music Scholarships
Printer-Friendly Version
Audition for a music scholarship!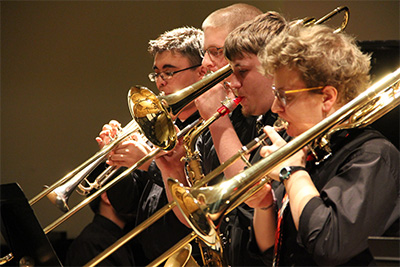 Wittenberg awards more than $350,000 in music scholarships annually, and these are available to all students, regardless of major—for voice, band and orchestral instruments, piano, organ, and classical guitar. Several dozen scholarships are awarded each year. You need to complete your audition by Mar. 1 before your first year at Wittenberg. If you are considering a major in music, this audition will also serve as your entrance audition.
For entrance to Wittenberg fall 2016: To audition for a music scholarship, please fill out the form below and click Submit. You do not need to first submit an application for admission to Wittenberg.
If you have any questions (including possible eligibility for a music scholarship if you are entering fall 2015), please contact):

Dr. Daniel Kazez, Professor of Music & Music Audition Coordinator
dkazez@wittenberg.edu
tel: 937-327-7354 (or 800-677-7558, ext. 7354)
Audition Requirements
Voice
Two contrasting songs, including at least one in English.
Instrumental
1. Two compositions or movements in contrasting style, one of which demonstrates technical proficiency. (For percussion, solos in two of these areas: snare drum, timpani, mallets.) About ten minutes total duration.
2. Major scales, memorized, up to four sharps/flats. Strings (including guitar and harp): two or three octaves. Woodwinds: one or two octaves, as appropriate for your instrument (clarinet/sax: in the key of your instrument). Plus a chromatic scale in one octave. Brass: one or two octaves, in the key of your instrument. Piano: three octaves, hands together.
---