The Wittenberg Choir 2012 Tour of Germany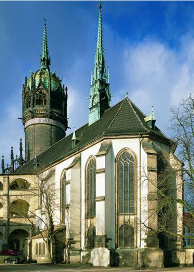 In the summer 2011 edition of Wittenberg Magazine, A. Gilbert "Gil" Belles, '62, remembers  a "defining moment" in his life. In the summer of 1961, as one of 64 voices in the Wittenberg Choir, he toured eight countries in central Europe, under the direction of its then conductor--and Dean of the School of Music--L. David Miller.
As Gil recalls, "Like me, many of the choir members boarded a plane for the first time," and their European experiences were both colorful and  transformative. Gil has vivid memories of reaching Austria, where he and a classmate "stayed overnight with the widow of the brewmeister of the Ulmer Munster brewery overlooking the Cathedral in Ulm," one of many performance venues which included "the largest and grandest cathedrals in every country."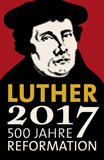 Today, over 50 years later, the Wittenberg Choir will revisit Germany in May of 2012 to take part in Luther 2017, 500 Jahre Reformation,  a ten-year celebration (2008-2017) commemorating the five-hundredth anniversary of Martin Luther's famed 95 Theses, which he nailed  to the front door of the Castle Cathedral in Wittenberg, Germany (pictured above) in 1517. Each year of the ten-year celebration has been dedicated to a specific aspect of the Reformation, and the year 2012  is specifically designated to honor the Reformation and Music.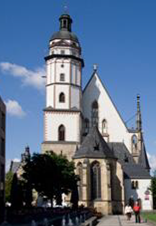 As explained by the Choir's director, associate professor of music Adam Con, "Our tour will trace the original scenes of the Reformation and footsteps of Martin Luther. We will see his homes, and perform in many of the churches where he preached. Some of the cities and venues where the choir will be singing include Berlin, Bach's church Thomaskirche (right) in Leipzig, Eisleben, Erfurt, Eisenach, and Mainz. In addition to walking in the footsteps of Luther, we will have the opportunity to honor both past and present musical heritage produced so prominently in Germany. Bach, Beethoven, Brahms, Gluck, Händel, Mendelssohn, Pachelbel, Schumann, Stockhausen, Wagner, and  Weber are a short and impressive list of German composers who have contributed to the world musical canon." 
---
---