Wittenberg Music Scholarship Recommendation Form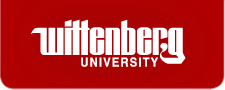 Wittenberg seeks to identify students who wish to study and participate in music at the college level: in applied lessons, music ensembles, and in pursuit of a music minor or one of Wittenberg's two music majors: the B.A. in Music (which is often combined with a major or minor in another area, such as theatre, communication, business, biology, psychology, or English, or can be the first step in a path toward a career in music therapy) or the B.M.E. (which leads to certification for public school instruction).
Wittenberg's Music Department has been an accredited member of the National Association of Schools of Music for more than 80 years. The department combines an excellent faculty and first-rate facilities in the midst of a small, residential college. Wittenberg has more Ohio Professors of the Year than any other four-year college or university in the state. More than $450,000 in music scholarships are awarded annually. Several dozen scholarships are awarded each year, available to all students regardless of major, for orchestral and band instruments, piano, and voice. Here is more information on Wittenberg music scholarships: www.wittenberg.edu/music/scholarship.
To the student:

After submitting an Audition Request (www.wittenberg.edu/music/audition), please give this form to two teachers who are familiar with your capabilities as a musician.

To the teacher:

Please print and complete this form and mail it to the address below, fax it to 937-327-7347, or email an image of the completed form to TBA. Thank you!

TBA
Music Audition Coordinator
Wittenberg University
200 West Ward St.
Springfield, OH 45501-0720
Name of the student:                                                                                                                                
 
Sense of pitch
comments:
 
poor     fair     good     very good     excellent
Sense of rhythm
comments:
 
poor     fair     good     very good     excellent
Music interpretation
comments:
 
poor     fair     good     very good     excellent
Preparation for lessons
comments:
 
poor     fair     good     very good     excellent
Composure in performance
comments:
 
poor     fair     good     very good     excellent
Overall musical talent
comments:
 
poor     fair     good     very good     excellent
How long have you known the applicant?                  How long has the applicant studied with you?                 
Please feel free to add additional comments on the back of this page.
Teacher's name, position/title, and address:
                                                                                                                                
                                                                                                                                
                                                                                                                                
                                                                                                                                
                                                                                                                                
 
Teacher's signature: