Why Wittenberg 2
Printer-Friendly Version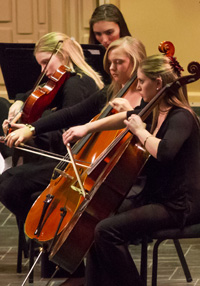 Students previously featured in "Why Wittenberg?"
Greg Brice '16

I'm from Germantown, Maryland. I graduated from Northwest High School, and while at Northwest I participated in Marching Band, Brass Ensemble, Concert & Symphonic Band, Chamber Choir, Men's Ensemble, Pit Orchestra, and Combined Orchestra (Winds, Strings, & Percussion).

Why Witt?  I chose Wittenberg for many reasons. I wanted an opportunity to experience new things, in a new environment. I also chose Wittenberg because of the beauty and warmth I felt when I first toured the campus, which gave me a feeling of safety, as if Witt was my second home. Lastly, I chose Wittenberg because I felt welcomed, I felt that I could interact and connect on a deeper level than any other university I could have attended.

What next?  After graduation, I have no clue what I want to do. Each day at Witt's music department I learn about new things I can do after graduation, so I just cannot decide what to do. Maybe I will do them all! With time as the limiting factor, however, whatever I do after graduation it will be the music professors at Wittenberg who helped me with my first steps toward reaching that future.

Jackie Burdwood '16

I am from Titusville, New Jersey, a moderately rural area next to the Delaware River. I attended Hopewell Valley Central High School and, during my time there, I was part of the symphonic band, orchestra, marching band, and percussion ensemble, and I played in the pit orchestra for the musicals Les Misérables, Bye Bye Birdie, and Crazy for You.

Why Witt?  I chose Wittenberg for several reasons, the first of which is that it is VERY far from my home. The school itself is a lot like my high school, but with friendlier people. And, of course, no one can argue with the fact that the campus is gorgeous. I had heard that the music program was very good and it has yet to disappoint! Every time I walk out of the music building after a lesson with Dr. Smarelli, I feel like my skills as a musician have improved from when I walked in and that I have a slightly better chance competing out in the musical world when my time at Wittenberg comes to an end.

What next?  My ultimate goal is to one day play the scores for movies, video games, television shows, and other types of media.

Niki Lambert '15

I am from Lancaster, Ohio, where I attended Bloom-Carroll High School. I was involved in symphonic band, chamber choir, jazz band, marching band, and Winterguard (color guard competition).

Why Witt?  I originally heard about Wittenberg from a band teacher. I chose Wittenberg for the family feel it provided. Everyone always seemed ready to help everyone else when I was on my visit. I also loved the faculty I met during my audition at the music department.

What next?  After graduation, I haven't fully decided what to do, but I want to go to graduate school for either music therapy or continued music education. After that, I plan to join the Peace Corps.

Kailey Coulter '14

I am from Grove City, Ohio, and I attended Grove City High School. I was involved with choir all four years and was also a member of "Class Act," one of our show choirs. I received multiple superior ratings at the OMEA Solo & Ensemble Contest and participated in the OMEA All-State Choir my junior and senior year along with the Ohio Capital Conference Honors Choir. I was also involved in the theatre department and participated in shows such as Little Shop of Horrors, Thoroughly Modern Millie, and Into the Woods.

Why Witt?  I chose Wittenberg because I was interested in pursuing music at a smaller school where I could also study political science, and Wittenberg has given me the opportunity to do just that. I was also drawn to Wittenberg because of its beautiful campus and the excellent professors I met on visit days who still remember my name.

What next?  I'm not quite sure what direction my life will take me in after graduation, but I am considering a Ph.D. in political science and possibly attending law school.

Andrew Bowen '13

My home is in northeast Georgia, in Gainesville, where I graduated from Chestatee High School in 2010. My high school choral program afforded me many opportunities including I Cantori, Fellowship of Christian Athletes Praise Team, and the competition men's quartet, as well as statewide ensembles including All-State Mixed Choir, Men's Choir, Sight Reading Choir, and District Honor Choir.

Why Witt?  I chose Wittenberg for its beautiful campus aesthetic and the unique experience of attending a liberal arts college, with a rigorous and eclectic course curriculum. Wittenberg also allows for an incredible amount of one-on-one instruction, which has been and is immensely important for me to have as a student.

What next?  After graduating, I hope to pursue a career in music via radio broadcasting or secondary-level education, or enroll in a graduate-level program in music.

Olivia Guetle '13

I am from Mansfield, Ohio, where I attended Mansfield Senior High School. I was in my school orchestra and the Mansfield Symphony Youth Orchestra. I participated in solo and ensemble all four years, doing piano and cello solo events and string ensembles. I played in the orchestra pit for two musicals, Guys and Dolls and The Wizard of Oz. I also played in many church ensembles and in quartets for weddings.

Why Witt?  I chose Wittenberg because I was looking for a college that was both highly academic and also had a really good music program, especially one with an orchestra and other music ensembles.

What next?  After graduation I plan on going to dental school.

Katie McNeal '12

I am from Venetia, a suburban area that is about half an hour south of Pittsburgh, Pennsylvania. I attended Peters Township High School. I was in the concert band my freshman year. I then joined the wind symphony in subsequent years. I also played in a few various settings, but music was always a hobby in which I participated only when time allowed.

Why Witt?  When I was looking for schools, I looked at the science departments and what kind of opportunities one could have there. While I wanted to focus on science, I wanted to be able to keep playing flute (as a hobby!) and explore other subjects as well. Wittenberg provided this, all within an environment that would allow me to explore and grow in my faith. What I didn't know, though, was that Wittenberg would provide me the opportunity to be bitten by the music bug. I was convinced to minor in music. I took a class and next thing I knew, I was declaring a music major! I'm glad I chose a school where I was able to explore different subjects and could follow two fields at once.

What next?  I have no idea what I want to do or where I want to go. All I know is that I would love to be able to keep music in my life. I'm sure God will eventually let me know what He's thinking I'll do after graduation. Until then, I've got plenty more to learn at Wittenberg!

Rachel Hunger '12

I grew up in a little one-stop-light town called Tremont City, only 10 minutes from Wittenberg. I attended Northwestern Elementary and Middle school. I graduated from Tecumseh High School, where I was involved with the Symphonic Choir and the Girls Show Choir. At Tecumseh I was able to expand my musical itch if you will call it. I was given chances to do things that I couldn't do at Northwestern.

Why Witt?  I know how great this music program is and what a beautiful, loving campus atmosphere there is. I think that we have some of the best music professor anyone can get.

What next?  I have always wanted to go back to my high school and teach, but things don't always go as planned. I would really like to find a teaching job that will expand my horizons and will show me what teaching is all about. I am planning to get a masters degree either in music or music education.

Isabelle Beegle-Levin '12

I am from Bedford, a small town in the midst of the Alleghenies in Pennsylvania. It is where the Whiskey Rebellion took place and it has a lot of history. I went to Chestnut Ridge High School. For several years I was in the Johnstown Youth Symphony Orchestra. I was in chorus my junior year and took music theory my senior year.

Why Witt?  I absolutely loved Wittenberg from the pictures and descriptions in the pamphlets and when I came to visit. I love the people and the gorgeous campus. I also like the writing-intensive courses. I wanted to come here for music because I knew I could pursue my love for music while still broadening my understanding of other subjects. The financial aid also was great.

What next?  I want a career which has something to do with music. I would either like to be a performer and songwriter or a part of the music business, such as managing a record company, coordinating musical events at resorts, cities, and other venues, or being a part of the business behind music camps and schools. I hope that whatever I do, I keep the spirit and heart of music in all my work and life.

Tiffany Olszuk '12

I am from Hopewell, New Jersey, which is a small town in the central part of the state. I attended Hopewell Valley Central High School and during my time there I was involved with several choirs including Ragazze (a select women's ensemble) and Concert Choir. One of my most memorable experiences with high school choir was having the opportunity to record a full CD entitled Floating Upstream, with the works of Canadian composer Stephen Hatfield. I was selected to be in the New Jersey All State choirs in 2005 and 2006 and had the incredible experience of performing at the New Jersey Performing Arts Center and Atlantic City's Boardwalk Hall. Outside of school, I took private piano lessons and was involved with a concert that raised several thousand dollars to aid people in Congo who suffer from a disease called river blindness.

Why Witt?  I chose to attend Wittenberg University because from my very first visit here I was welcomed by everyone on campus. I even unexpectedly met a professor who gave me a textbook to take home so that I could bring up my grade in my high school physics class! It was clear that professors in every department that I explored were willing to do anything to help their students meet their goals. I knew that I would have endless opportunities at Wittenberg.

What next?  I know for sure that I would like to continue my education after graduating from Witt and possibly obtain a PhD, however I have yet to decide what I would like to combine my love for music with. I would like to travel, so it is possible that I will study world music. My ultimate goal is to be to be able to move others with my music.

Lauren Kelly '12

I am from right here in Springfield, OH! I attended Kenton Ridge in Northridge, which is a suburb of Springfield, about 12 minutes from Witt. I was in all three choirs we had for all four years of my high school career. I was in the SSA (all-girls choir), the Swing Chorale (show choir), and the Kenton Ridge Choir, where I was the secretary during junior year and president during senior year. I was also in three musicals—Guys & Dolls, Footloose, and Fiddler on the Roof (I played Yente). I also joined the band my junior year and learned to play trombone. I was in the marching band, pep band, concert band, symphonic band, and I was the vocalist for my jazz band!

Why Witt?  I chose Wittenberg because it's a prestigious school. It was close to home so I could be near to my family and keep my job. And they were very generous with scholarships and grants so I could afford to attend.

What next?  After graduation I would like to become a high school choir teacher and save enough money to move to Chicago. I would then like to get my master's at Northwestern and hopefully become the next jazz great in Chi-town!

Kali Lawrence '12

I am from Elyria, a city about half an hour from Cleveland, Ohio. I attended Elyria High School with two thousand of my closest friends. (Fun fact—it's the first chartered high school west of the Alleghenies!) I played trumpet in the marching and symphonic band. My senior year, I was chosen to lead the trumpet section and become one of four business managers. Marching band was a saving grace for me—I found my passion in making music with others, and learned many life lessons. Anyone who knows me well will tell you that I am a marching band geek! I also played in the jazz band, which performed at numerous community events. I played handbells with my church throughout high school—everything from the very heavy bass bells to the piercing high bells!

Why Witt?  Wittenberg was not on my list at the end of my junior year of high school. But they kept sending me postcards in the mail, and the more I learned about the University, the more I liked it! When I came for my tour, everyone was really kind and open—they seemed like they cared about me and my dreams. Witt has a reputation of strong academic programs, which is important to me. When I left, I pictured myself going to school there, which I couldn't do with my other possible schools. It just fit!

What next?  My dream is to return to my high school to direct the marching band there. Although that is a very specific goal, I love marching band and would be happy being involved in a high school band program anywhere. That is my passion, and I couldn't dream of doing anything else!

Jarred Sorauf '11

I was born in Dayton Ohio, but raised in Fairborn Ohio, a small town near Springfield. I graduated from Fairborn High School. During my time there I participated in the freshman choir, a capella choir, and chamber choir. I also took piano lessons and competed twice in the National Federation of Music competition, which was held at Wittenberg.

Why Witt?  I choose Wittenberg because I took music classes here during high school. My piano teacher at the time was a recent graduate, and she introduced me to the beautiful campus. During these classes I was so amazed by the enthusiasm and dedication of my professors. The students I talked to were always very nice, and had so many good things to say about the school. After taking one class I knew that Wittenberg was the school for me.

What next?  After graduation I want to go to graduate school to pursue a masters degree in music.

Marisa Perez '11

I am from Lakewood, Ohio (directly west of Cleveland), where I attended Lakewood High School. While there, I was in chamber choir (a capella), symphonic mixed choir, symphonic treble choir, and various musicals throughout the years.

Why Witt?  I chose Wittenberg, for many reasons. The first visit I had here was so wonderful. My tour guide was so enthusiastic and quite passionate about the university and all that it has to offer. I just fell in love with Wittenberg! It also helped that my choir director went to Wittenberg and I had two friends who attended and spoke highly of Witt.

What next?  My main goal after I graduate is to sing! I don't know exactly what type of music I would prefer to go into, but whatever it turns out to be, I'm sure that it will make me happy. I could see myself doing anything from small, church singing to perhaps even a back-up singer in a band.

Vincent Pontius '11

I am from a small town called Milford Center (Ohio), only not really. That is my mailing address--I am actually closer to Irwin. I went to a small school called Fairbanks located in Milford Center. There was no string program there so I joined the band and played French horn in the concert band and mellophone in the marching band. I also joined the choir for a year and was involved in playing in the pit for a musical. Since there was no place at school for strings, I traveled a lot to Columbus for group lessons at Capital University and eventually became a member of their Tour Group there for violinists. I also auditioned for the Springfield Youth Symphony where I spent one year playing violin and then the last year was principal violist. I also have taught violin and am a certified Suzuki violin teacher. And I am in a piano trio with my two siblings where I lead them in playing weddings and various events.

Why Witt?  I chose Wittenberg for many reasons. I like a small school that feels more personal in which you can really feel that the professors care and want to help. I spent some time at Wittenberg in my youth in the academic camps and I was also involved in their orchestra camp where I was chosen to play with the Springfield Symphony as an Honor Student. All these experiences helped to create a "homey" atmosphere for me here at Witt.

What next?  I know that music will always be a part of my life, no matter where I am or what I do. I'll especially enjoy teaching and watching a student tentatively take a violin and bow in hand and watch the transformation as the months go by.

Megan Hentges '10

I am from Perrysburg, Ohio (near Toledo), where I went to Perrysburg High School. I played in my high school's wind ensemble, marching band, and jazz band. I also sang in my church choir and played in the bell choir.

Why Witt?  When I was looking at colleges I knew that I wanted to go to a smaller school with a good music program. I started looking at ELCA-affiliated schools that were close to home. I knew I wanted to come to Wittenberg when I visited. I liked how friendly everyone was and the small class sizes. Also when I needed to audition I was not able to come to the audition days but the music department worked with me to find a different day. This let me know that Wittenberg was the place for me.

What next?  After graduation I would like to teach in a junior high or high school as a band director and general music teacher. I am also considering music ministry.

Lis Schueler '10

I grew up in Deer Park, a small city in Greater Cincinnati, Ohio. I attended a fairly small local high school, Deer Park High School. I played mellophone in marching band the first two years and then became field commander. In concert band, I played French horn and later was section leader. In pep band, I played mellophone at the basketball games. Sophomore year, I participated in Winter Indoor Percussion, playing xylophone. I was also in Girls Glee Club and Show Choir, each for a year. I was in the musical You're a Good Man, Charlie Brown my junior year. At the end of each school year, our high school put on a production called Parkers, a themed musical variety show involving songs and skits. I was in opening and closing chorus for that and sang a solo. I also took private piano and voice lessons for a couple years and participated in O.M.E.A. Solo and Ensemble for piano and voice.

Why Witt?  I realized a while ago that I wanted to major in music as a voice major. I was attending college elsewhere, and transferring was the only way to pursue my goal. When I auditioned at Wittenberg last spring, everyone was friendly and it just "felt right." I also liked how Wittenberg was fairly small and it would be easy to get to know people. The beautiful campus was a finishing touch.

What next?  I don't have any plans after graduating yet, but I do know that I want to perform. Whatever the case may be, I hope that whatever job I have is music-related.

Annie Selong '10

I went to Bay High School in Bay Village, a western suburb of Cleveland, Ohio. I participated in the Ladies' Show Choir and the A Cappella Choir for three years. During my senior year, I did an independent study with my choir director where I conducted the Freshman Choir for a semester. I also worked with the elementary music teacher with 3rd and 4th graders throughout my senior year, helping them improve their skills on the recorder as well as teaching them rhythm and fun songs and dances. Plus, I was a member of the women's chorus in two musicals put on by my high school, Oklahoma! and Footloose.

Why Witt?  I heard about Wittenberg from my older sister, who considered it during her college search. When I came to visit Wittenberg, I couldn't help but notice the beautiful campus and friendly people. I knew I wanted a small school, and the distance from home was a good mix of space and comfort. I only applied to one other school, but the music department there was not very developed. So, Wittenberg won!

What next?  Once I graduate, I hope to get a job as an elementary general music teacher somewhere in the first to fourth grade range. I can see myself someday becoming a choir director for either junior high or high school. As for location, I would love to move somewhere with warmer weather, but I will most likely go wherever the job takes me.

Ben Williams '10

I attended DuPont Manual High School/Youth Performing Arts School in Louisville, Kentucky. While there, I performed with the Marching Band and Concert Band (we toured in Boston, San Antonio, Montreal, and New Orleans), Woodwind Quintet, Orchestra (we performed in Carnegie Hall), and Choir.

Why Witt?  I have family all over Ohio, so I was encouraged to look around this great state. I looked big, I looked small, size wasn't the issue. Wittenberg's friendliness and boundless opportunity are what made me decide on it. Everyone has your back and they're always willing and eager to help you. That impression has held strong and I am just as happy now as I was excited this time last year when I chose Witt.

What next?  I'm working on my music education degree, so I am planning on teaching in a secondary/pre-secondary setting while giving lessons. I also enjoy performing at various venues such as weddings, church services, musicals, ceremonies, and restaurants.

Rhea Jones-Price '10

I am from Trotwood, Ohio, a suburb of Dayton. I attended Dayton Christian High School, where I played viola in our String Orchestra and in our senior high school musical, State Fair. I went to piano camps at the Conservatory of Music at Rider University, and at Goshen College, Bowling Green, and Capital University.

Why Witt?  I chose Wittenberg because my piano teacher recommended that I take piano lessons with Wittenberg pianist Dr. Durrenberger because he is an amazing pianist and he really made an impression on her.

What next?  I think I might go into playing for churches and teaching private lessons. I dabble in arranging and composing so perhaps I will do that as well.

Sarah Murray '10

I am from Dublin, Ohio, where I was homeschooled. During my junior and senior years I was an accompanist for a children's choir at Upper Arlington Lutheran Church, and I was a keyboardist for Saturday night worship service at Cypress Wesleyan Church. The composing side of life began to develop during my sophomore year in high school. The first piece I composed, "In Principio," received honors in Ohio an MTNA composition competition), as well as on the national level (National Piano Guild composition competition).

Why Witt?  When I was a junior in high school I came to Wittenberg for an overnight, and I immediately fell in love with the campus. I also liked the idea that the class size would be small and the professors were genuinely invested in each student's education. I loved the friendly atmosphere. I started studying piano with Dr. Durrenberger during the summer of my junior year and the more I came to Wittenberg for my lessons the more I loved the campus.

What next?  I would really like to teach piano privately or possibly at a college level. It would be wonderful to compose on the side, too. With the liberal arts education that Wittenberg is providing I realize that I have a wider range of options for my future.

Kathryn Kulma '09

I went to Lakewood High School in Lakewood, Ohio, where I was principal clarinetist of the Wind Ensemble and Symphonic Orchestra and played clarinet in the pit orchestra for musicals. I was field commander and clarinet section leader of the marching band, president of the Symphonic Mixed Choir, and I starred as Gertrude McFuzz in Seussical the Musical. In addition, I was a member of the Cleveland Youth Wind Symphony and I took private voice and clarinet lessons.

Why Witt?  I chose Wittenberg because I wanted a liberal arts education. Although music is my passion, I have many other interests and I wanted a place where I could explore them. I also like the intimate atmosphere of a small school. The music students are more supportive than competitive. Witt is small enough that even a sophomore like me gets plenty of solo performance opportunities. I liked Wittenberg because of its small size, beautiful campus, and first-rate faculty. I knew I wouldn't get lost in the shuffle here. I also love the Wittenberg Choir!

What next?  After graduation, I plan on getting my masters degree in voice. My ultimate goal is to make a living performing and teaching private lessons. One day, I would like to receive my Ph.D. and teach at a university.

Sarah Dennett '09

I went to Old Mill Senior High School, in Millersville, Maryland. I played violin in my high school's orchestra, in the All County Orchestra, and in the pit orchestra for a few musicals the theater department put on. I also played tenor pan in my high school's steel drum band.

Why Witt?  I wasn't absolutely certain what I wanted to major in when I was selecting a college, so I was looking mostly at liberal arts schools. Wittenberg just seemed to have everything I was looking for in a college. It's small and the professors are easily accessible and approachable. There are lots of ways to get involved in campus ministries and it has lots of opportunities to get involved in music ensembles. More than anything, I felt that I would not only learn a lot at Witt, but that I would also grow in many different ways.

What next?  I'm not absolutely certain what I'm going to do immediately after I graduate, but eventually I think I'd like to get involved with some type of music ministry, hopefully one that will let me do a lot of traveling.

Becca Ajer '09

I went to Monte Vista High School in Spring Valley, a suburb of San Diego, California. I joined the county-wide San Diego Children's Choir, an audition-only organization made up of various choirs and kids ranging in ages from 6 to 18. During my freshman year I was in Concert Choir, a group for girls in 6th-9th grade and boys from 6th grade until their voices changed. After that I was in Youth Choir, the high school mixed voices ensemble and an 8-voice a capella group. I also performed in a lot of musicals with my school's theater program and led the Sunday School kids at my church in caroling for three years.

Why Witt?  I chose Wittenberg for a lot of reasons. First of all, I knew before I started my college search that I wanted to go to an ELCA-affiliated liberal arts college; this narrowed down my search somewhat. After visiting close to ten, I decided that Wittenberg felt like the best fit for me. Also, my mother's family is originally from Ohio (my mother was born in Dayton). My grandparents on her side and two of my aunts went to Wittenberg, as well as my great-grandfather. My great-great grandfather was even once the groundskeeper!

What next?  After graduation, my plan as of right now is to get a degree in music therapy and become a music therapist. It sounds like a fascinating job and would allow me to do the things I love: work with people and use music.

Greg McCoach '08

I attended John Glenn High School in New Concord, Ohio, where I performed with Concert Band (alto saxophone), Marching Band (also alto saxophone), Percussion Ensemble (all percussion instruments!), Jazz Band (piano), Brass Choir (trumpet).

Why Witt?  I wanted to have a balanced liberal arts education and still have the option to study music seriously. I've always been very eclectic, and Wittenberg, being a liberal arts college, has allowed me to pursue my many interests as well as seriously study my passion, writing music. The accumulation of knowledge in many different areas had led me to become a much more cognizant and sensitive person, which will aid me for the rest of my life and will certainly be present in my music.

What next?  I plan to work at either a recording studio as an engineer or at a music publishing house as an arranger. I also want to pursue graduate school to study composition in the near future.

Brad Wilson '08

I am from New Carlisle, Ohio, where I attended Tecumseh High School. I took private classical guitar lessons, was in four musicals (leading roles as the Baker in Into the Woods and Harold Hill in The Music Man), plus four years in Show Choir, performed at numerous community- and school-sponsored events, and attended OMEA solo and ensemble competitions for three years.

Why Witt?  Wittenberg seemed to be a very comfortable and welcoming university…both of which turned out to be true. The faculty-student interaction was definitely a plus. Wittenberg was generous with scholarships—both academic and music. I felt that I would receive a first-rate education at Wittenberg, which allowed me to obtain a dual degree in music and management. The professors, the campus, and student life as a whole drew me to Wittenberg.

What next?  I am seriously contemplating working towards a masters in voice after graduation, and ultimately obtaining a PhD, which will enable me to teach at a university.
↑ Jump to the top of this page.