Local Government Management Internship Program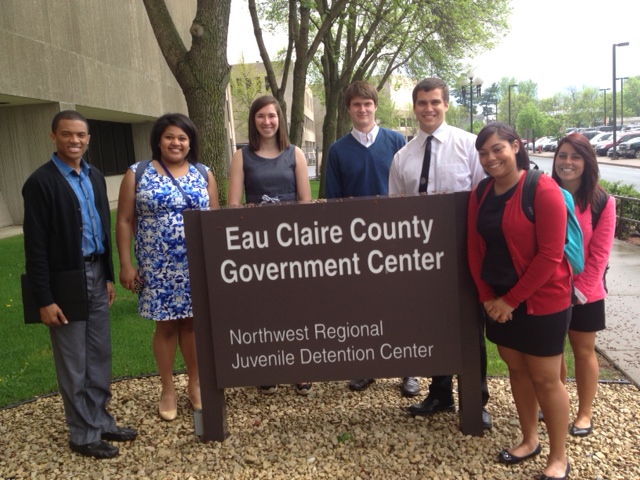 Dr. Rob Baker, Professor of Political Science, and Dr. Jeff Ankrom, Professor Emeritus of Economics, have created a unique and exciting summer internship program that enables students to integrate classroom theory with hands-on government experience. Linking the theory and practice of local government results in a rich and rewarding experience that cannot be attained in the classroom alone. This educational opportunity is invaluable if you are contemplating a career in government, and the internship is an outstanding addition to your resume.    Beginning with the 2016 Program, Dr. Craig Waldron, Instructor of Public Administration at Hamline University in St. Paul, MN will replace Dr. Ankrom who has taken a position at another university.
The program, open to students from any college or university, is 8 weeks in duration and consists of an internship component and a class/seminar component. Students are placed as interns in a host local government department and given 1 or more projects to complete by the end of the program. On-site faculty are accessible each day for students to consult on their projects, and to facilitate the independent work that will be required for them to complete their assignments. Students also take a class two nights per week, and are required to attend local government meetings. The typical schedule for the internship component is 8-5 Monday-Thursday, and 8-12 Fridays. The internships are unpaid. Students receive 6-8 hours of college credit for successful completion of the program. The total cost to the student is around $5,500 and includes tuition, housing, transportation to and from the city, and 2 extended weekend excursions during the course of the program. 
 
The 2013 program was hosted by the City and County of Eau Claire, Wisconsin.
Pictured above are Terrence Williams ('13, University of Florida), Brianna Betts ('14, Wittenberg), Karen Daniel-Hamberg ('15 Wittenberg), George Cooper ('13 Wittenberg), Ben Swegarden ('13 University of Wisconsin-Eau Claire), Brittany Williams ('14 Wittenberg), and Shelby Knapp ('15 Wittenberg). The students were placed in various departments of city and county government, given 2-3 projects to complete during the period, took a seminar in local government administration and finance twice weekly, and attended local government meetings. We also took two extended weekend excursions, one to the Black Hills and Mt. Rushmore, SD, and the other one to the Milwaukee Music Festival.
***The 2016 Program will be hosted by the City of River Falls, WI***    If you are an interested student,  please contact Dr. Baker (jbaker@wittenberg.edu).
***Host local governments are sought for the 2017 program year and beyond.   If interested please click on the links below under Links for Local Governments.
ICMA Interest in this Program
ICMA sponsorship of this program grows out of its concerted efforts to increase awareness among college students about career opportunities in local government management. This is particularly important in the current climate of increasing devolution of government responsibility to local jurisdictions coupled with demographic trends indicating that local government administrators are retiring in large numbers creating a "quiet recruitment crisis" as vacancies are not being filled fast enough. This Local Government Management Internship Program (LGMIP) is one of several ICMA sponsored initiatives designed to address these concerns. For more information about ICMA's "Next Generation Initiatives" click on the following links to articles written by ICMA Executive Director, Robert O'Neill, and Deputy Executive Director, Elizabeth Kellar.
A Testimonial from Scot Simpson, City Administrator, River Falls, WI
"The City of River Falls was fortunate to have six bright, capable young people from the Wittenberg University/ICMA Local Government Internship Program for a number of weeks during the summer of 2010. The students worked on many projects of concern to the City's staff and its elected leadership. The cost of the program to the City of less than $5,000 dollars provided the City with 1,000 hours of work on priority projects. The students brought a fresh perspective and positive attitude to work each day.  One of the unique benefits of this program was the added perspective and assistance received via the program's two advising professors being on-site in River Falls. I would be happy to have another team of Wittenberg/ICMA students and their professors back every summer."
Why is this program needed?
See what the New York Times wrote about the "graying" of the government management profession (NYT, 1-11-7)
Our Legacy: The Next Generation
by O'Neill, Robert
In this article, Robert O'Neill, ICMA executive director, describes his experiences as a young professional entering the field of local government, and the assistance and guidance he received from the senior managers with whom he worked. Includes several ICMA initiatives underway to promote local government work among young professionals, such as a resource guide, an internship toolkit, and partnerships with the academic community.
The Ultimate Community Service
by Kellar, Elizabeth
This article discusses the challenges public managers face in recruiting young people into the public sector. It also provides an overview of the interests of young professionals and the current age distribution of managers, and outlines procedures for reaching out to the next generation.
Meredith, NH Welcomes Interns by Rob Carty
This article introduces the 2005 interns and highlights their experiences in Meredith, NH.
Contact Us
Dr. Rob Baker
Professor, Department of
Political Science
Wittenberg University
Springfield, OH 45501

Phone: 937-327-6105
Fax: 937-327-7991
jbaker@wittenberg.edu

Dr. Craig Waldron
Instructor, Department of Public Administration
Hamline University
Sr. Paul, MN  55104 

Phone: 651-523-2971
Fax: 
cwaldron01@hamline.edu

Rob Carty
ICMA
777 N. Capitol St., NE Suite 500
Washington, DC 20002

Phone: 202-962-3611
Fax: 202-962-3500
rcarty@icma.org