65th Annual Student Conference on U.S. Affairs
Political Science major, Tiana Cherry '14, represented Wittenberg at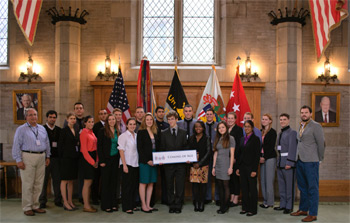 The United States Military Academy at West Point for the 65th Annual Student Conference on U.S. Affairs (SCUSA). The purpose of this conference is to facilitate interaction and constructive discussion between student delegates from universities around the world and West Point cadets. The participants spend four days intensively debating and formulating policy recommendations that realistically model American strategic response to significant national and global challenges.
This year, over 200 student delegates from the U.S. and abroad attended SCUSA, prepared to tackle the theme of the conference, "Navigating Demographic Flows: Populations, Power and Policy."
To guide students in the appropriate direction, the conference officially began with a Keynote Panel Discussion led by LTG Robert L. Caslen Jr., 59th Superintendent of the United States Military Academy; Mr. Daniel Clemens, Entrepreneur; COL (Ret.) Robert L. Gordon III, Chief Strategy Officer for APX Labs; BG (Ret.) Russell D. Howard, Director of MonTrep and Adjunct Professor; COL (Ret.) Jay Parker, Professor and Chair of International Security Affairs, College of International Security Affairs at National Defense University, and;  Dr. Kori Schake, Research Fellow, Member, Military History Working Group. Following the panel discussion, student delegates and West Point cadets spent several days debating foreign policy.
As a participant in a series of roundtable discussions entitled, "Coming of Age," I worked with approximately 20 students to identify the sources of Middle Eastern Instability. The roundtable first considered the current direction and velocity of demographic trends across the region and then attempted to determine how U.S. policy might manage these trends to best advance U.S. interests.
I quickly realized that the participants in my roundtable would not be coming to a consensus on these sources. Each individual had different religious, ethnic, and cultural backgrounds that provided a diverse array of perspectives on the topic. My group settled by listing several causes that we believed contributed to Middle Eastern instability, then we performed a democratic vote. We concluded that regime based economic policies contributed significantly to instability in the region and recommended short, medium, and long-term goals that would serve as solutions to this cause.
When participants were not intensively debating on policy recommendations, we were touring the beautiful Hogwart's like campus, viewing a weapons display, getting a taste of the First Class Club, and attending the Keynote banquet address with speaker, Lt. Gen. (Ret.) Brent Scowcroft, President of The Scowcroft Group. At the conclusion of the conference, each roundtable group submitted their policy recommendations. Afterwards, the roundtables participated in a closing report session where each group performed a skit that summarized their proposals.
Reflecting back on my experience at West Point, I can truly say that I gained a better sense of the difficulties presented with formulating a consensus on policy recommendations that truly model American strategic response to significant national and global challenges. Often times, critics of foreign policy makers take for granted the amount of time, commitment, and dedication needed to address and resolve current issues. SCUSA has fostered a productive learning environment that has allowed me to become familiarized with the process of formulating sensible policy recommendations and has fostered in me, a great deal of respect for our policy makers.