Janice M. Glowski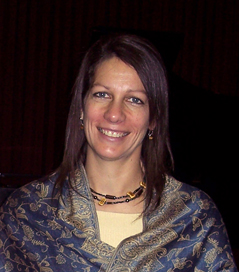 Assistant Professor, Himalayan and South Asian religious traditions, Buddhism
(937) 327- 9721
Dr. Janice Glowski received her undergraduate degree with a major in Chemistry and a concentration in Religion from Wittenberg University. Following graduation, she worked with the Peace Corps and later in industry as a chemist. She completed an interdisciplinary Master's Degree in Religious Studies with an emphasis on Asian visual culture at The Ohio State University, and went on to earn a Ph.D. in Asian Art History. Her major areas of study were Himalayan and South Asian Art, with a minor area emphasis in Buddhist art throughout Asia. She worked as a Curator and Director of Special Collections at Ohio State and Curatorial Consultant prior to joining the Wittenberg faculty.
Dr. Glowski  teaches Religion courses on Himalayan and South Asian religious traditions, with an emphasis on Hinduism and Buddhism and their art and visual culture, as well as comparative Sacred Architecture.  
Dr. Glowski began teaching at Wittenberg in 2006 and joined the faculty full-time in 2011.  She holds an interdisciplinary appointment with the Art and Religion departments, and contributes to the East Asian Studies Program.  Her current research related focuses on Tibetan Buddhism and art in the diaspora.