Projected Cost
The program fee of $6,400 is subject to change depending on the number of student participants, inflation and/or exchange rate fluctuations.   Non-Wittenberg students pay a $40 Summer Session Application for Transient Students fee.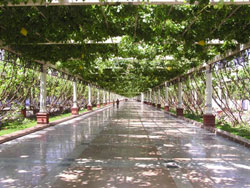 The programs fee includes all expenses for students in China related to the program, excluding only personal expenses. Covered expenses include tuition, housing, meals, transportation, entrance fees, most course materials, program incidentals, tips, and international medical, evacuation and repatriation insurance.
Additional student expenses not included in the program fee are transportation to/from their home to/from China, visa, text and gifts for Chinese hosts.  These estimated costs are $2,000. Additional expenses might include passport, medical exam and inoculations, early arrival in or late departure from China, and personal expenses.
.