Six Wittenberg Sociology Students Present Papers at North Central Sociological Association Conference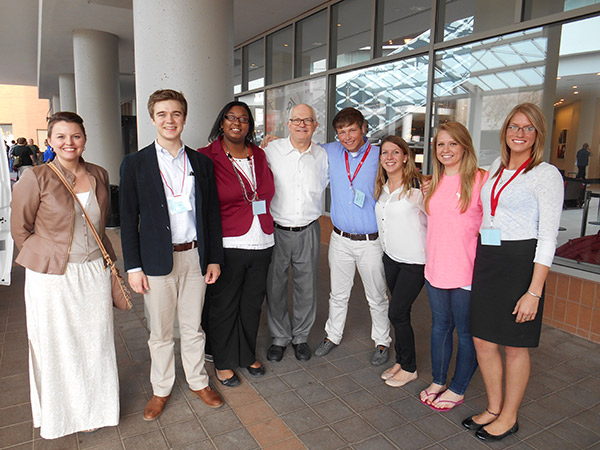 Six Sociology students, accompanied by professors Brooke Wagner and Jerry Pankhurst, participated in the annual conference of the North Central Sociological Association on Friday-Saturday, April 11-12, 2014.  The students presented research papers derived from senior Thesis work and other research projects in several sessions.
Awaiting departure to return to Springfield after the conference are, left to right in the, seniors Martin Lukk,  Chanteal Hall, Michael Adams, Samantha Spencer, Tracy Lockhart, and  Lindsey Criswell.  In the second photo Professor Brooke Wagner stands on the left and Professor Jerry Pankhurst appears fourth from the left.
The students presented the following papers:
Samantha Spencer ('14), "The Social Construction of Mental Illness: An Ethnography of NAMI"
Chanteal Hall ('14), "The Vegan Journey: A Qualitative Study on Veganism in America"
Tracy Lockhart ('14), "Maternal Preference in Ohio Domestic Relations Court"
Martin Lukk, ('14), "Dimensions of Competition: A Religious Economies Analysis through New Indices of State Religious Regulation"
Michael Adams ('14), "Past Victimization in the Form of Bullying and Its Impact on Fear of Crime"
Lindsey Criswell ('14), "Linking Gang Rape and Hegemonic Masculinity:  Predicting Intensity of Sexual Assault Victimization"
Both Dr. Wagner and Dr. Pankhurst chaired sessions at the conference, and Dr. Pankhurst also presented his research on the "demographic crisis" in Russia in a research paper session.