Stephanie Little--Psychology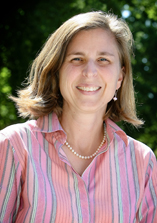 What is the most important thing you want your students to know about writing?
Can I pick 3 things? First, it is important to seek clarity in your writing.  Second, writing is a process; you'll end up with a better finished product if you first plan out the paper and then work through several drafts.  In college, I would finish a complete draft a day or two before the due date and then put it aside so that I could read it with fresh eyes at least one more time before turning in the final copy.  Third, just like with any skill, practice does make you a better writer.
What is your favorite assignment and why do you like it?
Probably my favorite assignments are the ones for the Abnormal Prosem.  The movie papers require students to identify symptoms, causes and effects of mental illness as well as propose possible treatments for the characters with mental illness.  This is a fun assignment for me because I get to watch movies related to my discipline (and, I rarely get to watch movies otherwise) and the students must utilize strong writing skills to convey the required information.  I'm particularly pleased when students' writing conveys a not only a deep level of understanding of the course materials but the ability to apply their knowledge to the movie.
How would you describe yourself as a writer?
I believe I am a careful and thorough writer with a tendency to be too wordy.  However, I'm not always the most organized in the initial stages.  Both as a clinician and researcher, I tend to gather a significant amount of information and only after reviewing all of it determine what's most relevant and then organize it a meaningful way.  Also, I'm a very practical writer; while I love reading creative pieces I myself use writing primarily as a tool to convey information.
Other comments you'd like to make about writing at Wittenberg, or writing in general?
One of the great advantages of a small university like Wittenberg is that professors truly want to help you improve and do your best.  So, you should take advantage of professors' office hours and willingness to read drafts as well as the Writing Center to improve your writing as much as possible while here.