Tanya Maus--History
What is the most important thing you want your students to know about writing?
The most important thing that I want our students to know is that writing is an interactive process in which feedback from other writers is essential. You don't have to have to isolate yourself in the writing process. That's why I always suggest that students visit the Writing Center so they can talk about their writing to get another set of eyes on their work. It doesn't matter if the feedback comes from a specialist in the area of study, rather the feedback is intended to let you know if your writing is organized, coherent, and communicates a point. That's the role Writing Advisors can fulfill. I also tell students that this process of feedback is life long. There is never a point, no matter how skillful the writer, in which feedback isn't useful.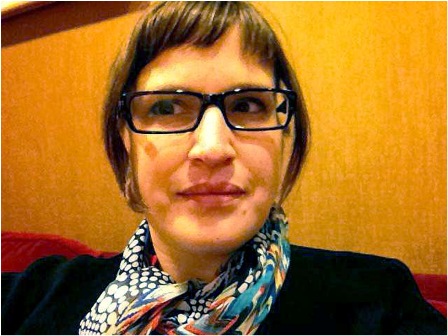 What is your favorite assignment and why do you like it?
I would have to say that my favorite assignment is one I developed for my Wittsem. In my "Wittsem100L: Murder She Wrote: Female Detective Fiction and Social Consciousness in Japan," I ask freshman students to develop a murder mystery based upon a concrete social issue in Japan. In the first stage, students must first research the historical context of a specific social problem such as hikikomori (withdrawal syndrome) during the 1990s as the focus of their murder mystery, in the second stage, students must write a book prospectus for a Japanese press in order to promote their mystery, which includes a cover letter, character sketches, a synopsis, as well as a resume (they are expected to visit Career Services to complete their resume). Finally, in the third stage of the project, students write a 10- to 15-page mystery set in Japan (they often write 20-30 pages), with characters developed based upon knowledge of Japanese societal and cultural practices, and perform it in the form of a radio broadcast or mystery dinner theater for the public. I love this assignment because it is writing with a purpose and it integrates so many skills. This year's Wittsem in fall '12 opted to self-design and self-publish their stories through LuLu. They did an absolutely fantastic job. You can view the book here!
How would you describe yourself as a writer?
Always tortured. It is so hard to write. As an undergrad, I remember putting off writing until the last minute because I was so terrified of the process, sometimes crying all night just to get out a four-page paper. I didn't want anyone to see how incomplete or silly my ideas were. Now as I write forty and fifty page articles, I have come to realize that 80% of writing is method and technique that requires gradual and consistent progress and regular feedback from my peers. I don't fear the writing process as much and I know that I don't have to go through it alone. No more putting off writing until the last minute! The other 20% is thrilling—it is the 20% where writing becomes an intense creative and intellectual exercise. I love, love, love this 20%. It takes a long time to get to this 20% but once you do it is like getting a runner's high. The endorphins are flowing and it's thrilling.
Other comments you'd like to make about writing at Wittenberg, or writing in general?
Writing is one of the most accessible and immediate technologies we have in which we can transform our interiority—or the thoughts in our heads—into a material object that can be communicated exponentially to others. It helps discipline the chaos of our minds into something productive and powerful. If we fail to engage in this process with commitment and seriousness I think that we will lose a great deal of our ability to think coherently and critically. Happily, Wittenberg is dedicated to ensuring that all students engage in the writing process. It's a life long process, so don't give up!