Nancy McHugh--Philosophy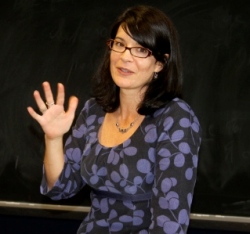 What is the most important thing you want your students to know about writing?
Approaching your writing through multiple drafts is freeing, not a burden. With drafting you don't have to get it "right" the first or second time. You build to a great paper.
What is your favorite assignment and why do you like it?
My favorite type of assignment is one where I take a current issue that is prominent and ask students to apply their philosophical skills to that issue. For example, in my Race, Gender, Science and Medicine class I had my students read an article from the journal Nature on the question "Should Scientists Study Race and IQ?" The students had to use material from the course to provide a critical analysis of the reading and then present their own view in an argumentative format.
I like this assignment because it is important for students to realize that the issues we discuss in Philosophy matter now. I also like for them to see that they can respond intelligently to these issues and that they have the resources from their course work to do so.
How would you describe yourself as a writer?
Tortured and tenacious!
Other comments you'd like to make about writing at Wittenberg, or writing in general?
As a professor one of the most fulfilling things is to watch students grow as writers.