Brian Shelburne--Mathematics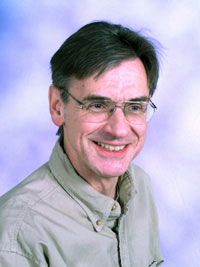 What is the most important thing you want your students to know about writing?
Effective writing is something that must be practiced every day!
Effective writing is not confined to big papers and projects; effective writing is something that one ought to do every day – in the daily "grind" of homework assignments, quizzes and tests. It is the clear and concise presentation of an argument or reasoning so that others can easily follow it. In judging effective writing I consider the "fours C's": correctness, conciseness, clarity and completeness. After all, if one cannot effectively and clear communicate an idea, how can anyone else judge whether it's correct or not?
This is especially true in mathematics and computer science where heavy use is made of domain specific notation and where terms and definitions have very precise meanings. Precision is important. One misplaced word can completely alter the meaning of an idea. 
What is your favorite assignment and why do you like it?
I have no favorite writing assignments; per se. I do have favorite assignments. But the write-up thereof is only the means by which the assignment is presented. Good writing should be like a clear and spotless window allowing one to see the assignment clearly. 
How would you describe yourself as a writer?
Writing does not come easy to me – it never has. So I have to work very hard at it. Yet I find that my persistence pays off. Word processors help since they allow easy editing. In fact, that's how I write. I write down something, anything – a first approximation of an idea. Then I go back and see if it makes sense. I modify it, play with it, rearrange, it to see if I can make it better. It's often arduous but it seems to work.
For every day "off the cuff" writing I find it helps to slow down first (see below).
Other comments you'd like to make about writing at Wittenberg, or writing in general?
Handwriting seems to have gotten worse over the years (mine has). If you are hand writing something to be read by others, slow down. Think! Take the time to write or print better.
If you are doing mathematics or the science, learn to use a good equation editor.