American Studies Program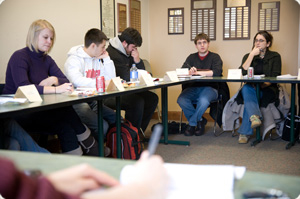 Take a look at what past grads from Witt have done with their majors – internships, grad school programs, and first jobs after graduation.  It's not always as cut and dried as you think; a Liberal Arts degree has a lot of flexibility!
What Witt American Studies Students Have Done . . .

Why American Studies?
The American Studies Program is an interdisciplinary program designed to offer the student an opportunity to study American culture in its broadest sense from a variety of perspectives. Each American Studies major is required to develop an individual program that provides breadth of knowledge about a variety of American cultural characteristics, an understanding of American history, and depth of knowledge about a particular aspect of American culture. Breadth of knowledge is acquired through course requirements that introduce the discipline of American Studies, explore American history, and fit five categories that describe particular aspects of American culture in greater detail. The major is able to deepen the knowledge of a particular aspect of American culture by taking either a research course or a readings course in American Studies. A list of topics (by no means exhaustive) that might be explored in the context of either a research or readings course includes African American culture, Native-American culture, gender issues in American culture, American culture in a global context, the fine and performing arts in the context of American culture, rural and urban studies in America, and the nature of American material and technological culture.
Degrees Offered
Major: American Studies
Minor: American Studies
Go to the American Studies department site for more information!