Art Program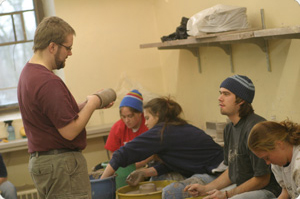 Take a look at what past grads from Witt have done with their majors – internships, grad school programs, and first jobs after graduation.  It's not always as cut and dried as you think; a Liberal Arts degree has a lot of flexibility!
What Witt Art Students Have Done
Why Art?
As an art major or an art minor, you will learn how to think both visually and critically. If you pursue the bachelor of arts (B.A.) degree, you may choose a concentration in studio art or art history. The bachelor of fine arts (B.F.A.) degree offers students with considerable talent and motivation an intensive option for a studio concentration. Our studio program focuses on traditional imaging, technical imaging, and three-dimensional structuring, and special emphases include art history, ceramics, computer imaging, drawing, painting, photography, printmaking, sculpture and silver jewelry. Your creativity can be unleashed in spacious, well-lit studios and by using equipment specifically designed for your chosen media area.
Wittenberg's location is ideal, with access not only to the Springfield Museum of Art but to numerous metropolitan area museums in nearby Columbus, Dayton and Cincinnati as well. Our professors are committed to teaching and welcome the challenge of working with a wide variety of students. We are professionally involved in creative activities in our areas of research, publication and exhibitions.
Degrees offered
B.A.: Art with a concentration in studio art
B.A.: Art with a concentration in art history
B.F.A.: Art with a concentration in studio art
Minor: Art with a concentration in studio art
Minor: Art with a concentration in art history
Get involved
Wittenberg Art League: Open to all Wittenberg students, members organize visits to local and regional art museums, art exhibitions and sales; participate in Visiting Artist activities; and assist in the production of the annual creative arts publication, Witt Review. Recently, students have traveled to New York, Chicago, Pittsburgh and Washington, D.C.
Empty Bowls: Students produce several hundred ceramic bowls annually for this fund-raising project that aids a local food bank.
Go to the Art department site for more information!