A Profile of the Chemistry Department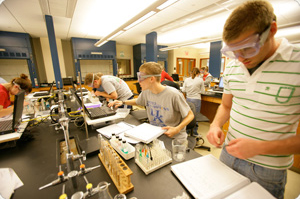 Take a look at what past grads from Witt have done with their majors – internships, grad school programs, and first jobs after graduation.
What Witt Chemistry Students Have Done

Solid preparation for the future
Wittenberg's chemistry program will provide you with comprehensive training across the spectrum of the discipline: biochemistry, analytical, inorganic, organic and physical chemistry. Certified by the American Chemical Society, our program produces graduates known by businesses and graduate schools to have excellent preparation.
To complement this strong technical background, you will also hone your written and verbal communication skills by writing lab reports, discussing problem-solving in class, and making formal presentations in the Junior and Senior Seminars. You will work with classmates in the lab, gaining teamwork skills that are essential to working in successful organizations. Our lab safety training in first- and second-year courses will prepare you for future lab work in research labs or industry.
One of the strengths of our chemistry program is the partnerships you will build with the faculty members. Unlike large, impersonal introductory courses at many colleges and universities, the chemistry classes at Wittenberg have a maximum enrollment of 32, and upper-level courses usually range from five to 10 students. Small classes and labs make certain that you get individualized attention and ensure your success in chemistry.
Degrees offered
B.A.: Chemistry
B.S.: Chemistry
Minor: Chemistry
B.A.: Biochemistry & Molecular Biology
B.S.: Biochemistry & Molecular Biology
Minor: Biochemistry & Molecular Biology
Courses
100: Chemistry and Society
121: Models of Chemical Systems
162: Chemical Structure and Analysis
201: Introduction to Organic Chemistry
271: Biochemistry I
281: Analytical Chemistry
282: Qualitative Organic Analysis Laboratory
290: Introduction to Research
300: Junior Seminar
302: Intermediate Organic Chemistry
303: Advanced Organic Chemistry
311: Physical Chemistry I
321: Inorganic Chemistry
352: Physical Chemistry II
372: Biochemistry II
380: Topics in Chemistry
382: Advanced Instrumentation
400: Senior Seminar
491: Internship
492: Directed Research
499: Honors Thesis/Project
Resources
Wittenberg has beautiful, state-of-the-art teaching laboratories, opened in 2003 as part of the $22 million addition to the Barbara Deer Kuss Science Center. The open design and natural light make this an appealing place to learn chemistry.
Our focus on undergraduate teaching and our small class size ensure that all majors get hands-on experience with modern equipment. You will have access to a wide array of instrumentation, including Fourier transform infrared, ultraviolet-visible, Fourier transform nuclear magnetic resonance, and atomic absorption spectrometers, a gas-chromatograph/mass spectrometer, lasers, gas and liquid chromatographs, and an electrochemical workstation.
You will learn how to use computers for scientific word processing, data collection and analysis in spreadsheets, and how to perform sophisticated theoretical calculations using molecular modeling software. The chemistry department houses more than 50 computers and makes use of a 30-processor parallel computing cluster.
Gain experience
We encourage students to include research experience or an internship in their undergraduate education. Our flexible curriculum also makes it possible to study abroad for a semester or year. The department has several active research groups, which majors can join for academic-year experiences or paid summer positions, including:
Protein investigations using computer simulations
Synthesis and electrochemistry analysis of modified electrodes
Laser spectroscopy studies of silver nanoparticles
Synthesis and study of antioxidants
Synthetic, spectroscopic and theoretical investigations of chemical processes
Students also take advantage of internship opportunities nearby at:
Wright Patterson Air Force Base Materials Lab
Springfield Crime Lab
Bureau of Criminal Investigation
Our students have been selected for summer research positions at:
University of Minnesota
Purdue University
Duke Medical School
University of Southern California
University of Michigan
Proctor and Gamble
Case Western Reserve
Scripps Institute
Placement
Chemistry graduates have qualities and skills that are applicable to many careers. Thirty percent of our recent graduates entered Ph.D. or M.S. programs in chemistry at schools such as:
Ohio University
Purdue University
Rice University
The Ohio State University
University of Illinois
University of Michigan
University of Notre Dame
University of San Francisco
University of Southern California
University of Virginia
Thirty-five percent of our recent graduates attended other graduate programs such as:
Indiana University School of Dentistry
The Ohio State University Veterinary School
Ohio University College of Osteopathic Medicine
Toledo College of Osteopathic Medicine
Tulane University Law School
University of Cincinnati Medical School
University of Cincinnati Pharmacy Program
University of Kentucky School of Public Heath
University of Washington Medical School
Thirty-five percent of our graduates take positions in business, industry or education, including:
Eli Lilly and Co.
Procter and Gamble
Bureau of Criminal Investigation
Bath & Body Works
Applied Sciences, Inc.
Mallinckrodt Baker
Advanced Testing Laboratory
Akron Public Schools
Forest Hills School District, Hamilton County, Ohio
Go to the Chemistry department site for more information!