A profile of the Physics Department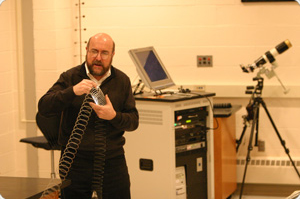 Take a look at what past grads from Witt have done with their majors – internships, grad school programs, and first jobs after graduation.  It's not always as cut and dried as you think; a Liberal Arts degree has a lot of flexibility!
What Past Witt Physics Students Have Done
Strong background for a variety of careers
What will be the ultimate fate of the universe? How can electronic devices be made even smaller? Why can't I unmix the cream from my coffee? Physicists explore questions such as these, studying the behavior of nature from the largest to the smallest scales, and from the fundamental to the immediately practical. Albert Einstein wrote that "the most incomprehensible thing about the Universe is that it is comprehensible." Physics is concerned with discovering patterns and regularities in nature and finding ways to describe these patterns in order to help us better understand the world around us. Because physics is concerned with fundamental questions, many ideas and tools developed by physicists are useful in other disciplines. An education in physics thus provides a strong background for careers in a vast number of science, engineering and medical fields.
Many students who leave Wittenberg with a degree in physics continue their studies of physics in graduate school. Others pursue careers in fields such as engineering, astronomy, computer science, law, business and education. Physicists have knowledge and skills that are applicable to a wide range of problems. Consequently, physicists are always in demand.
Degrees offered
B.A.: Physics
B.S.: Physics
Minor: Physics
Program
Wittenberg's physics major is designed to give you a foundation of sufficient depth and breadth to enable you to pursue physics study at the graduate level or to embark on other technical careers. This foundation is built through courses in theoretical, experimental, and computational physics and astronomy, as well as courses in mathematics, computer science and chemistry.
Special opportunities
All physics majors gain research experience in a senior project of their choosing. Many students do additional research by working with Wittenberg faculty or participating in off-campus internships. We encourage students to present their research at national and regional professional society meetings.
The flexibility of the Wittenberg curriculum makes possible a variety of interdepartmental and dual majors and minors, as well as study abroad.
Research internships
Most physics majors participate in at least one research internship during their undergraduate careers. Recently, our students have held off-campus research internships at a variety of sites, including:
National Institute of Standards and Technology
National Superconducting Cyclotron Laboratory
Notre Dame University
Arecibo Observatory
Funding for summer research at Wittenberg is also available.
Facilities
Our department is exceptionally well-equipped in several areas. Major items include:
a laboratory for research into electromagnetic wave propagation and scattering, including high-speed data acquisition for applications such as radio-frequency virtual instrument development and radar studies.
a nuclear and atomic physics laboratory equipped with frequency-stabilized diode lasers, high vacuum equipment, and various detectors.
Elgar Weaver Observatory, with its newly refurbished 10-inch refracting telescope equipped with a CCD camera and spectrometer.
a 400,000 Volt Cockcroft-Walton particle accelerator, a basic tool for nuclear physics and for testing and studying materials and electronics.
a scanning electron microscope, which provides high resolution imaging and characterization of the elemental composition of samples.
a 29-processor Unix cluster for high-performance parallel computing.
a high-speed video camera capable of 10,000 frames per second.
an optics laboratory equipped with a Michelson interferometer, a grating monochromator, lasers, optical tweezers, and a 3-m spectrometer.
an electronics laboratory equipped with digital oscilloscopes and function generators.
a well-equipped machine shop.
3-2 Engineering
You can pursue an engineering degree at Wittenberg through a dual-degree engineering program. The most common track, often referred to as a "3-2" program, entails studying at Wittenberg for three years, followed by two years at a participating school of engineering (Case Western Reserve or Columbia University). Students who complete this program earn a B.A. from Wittenberg and a bachelor's degree in the specific field of engineering from the engineering school. Admission to participating schools is guaranteed for students recommended by Wittenberg.
Career possibilities
Employment opportunities for physics students are excellent. More than half of our majors go on to graduate school in physics or a related area such as astronomy or engineering. After completing graduate work, students typically find employment in industry, government laboratories or universities. Recently, our students have been accepted into the following graduate programs, among others:
University of Wisconsin, physics
Notre Dame University, physics
University of California-Berkeley, astronomy
University of Arizona, planetary science
Cornell University, electrical engineering
University of Virginia, biomedical engineering
Georgetown University (joint Physics Ph.D./M.B.A. program)
Students who enter the job market after graduation have an excellent record of obtaining employment in engineering, education, business or law. Positions held by recent graduates include:
Packaging engineer, Abbott Laboratories Ross Products Division
Drug delivery systems technician, Alkermes Inc.
High school physics teacher
Patent agent, Pillsbury Winthrop LLP
Intelligence analyst, U.S. Air Force
Get involved
Society of Physics Students (SPS): Membership is open to anyone interested in physics. SPS has visited Paramount King's Island to research the physics of amusement park rides; worked on projects such as building a radio telescope; hosted speakers and movie nights; and traveled to regional physics meetings. Wittenberg's chapter of SPS has been named an Outstanding Chapter by the national SPS three times.
Sigma Pi Sigma: Wittenberg has an active chapter of this national physics honor society.
Wittenberg Astronomical Society: This organization fosters interest in astronomy for the entire Wittenberg community. Activities include viewing sessions at Weaver Observatory, field trips to places such as Adler Planetarium in Chicago and rural dark-sky sites, and eclipse and meteor-shower observing.