The Green Greek Program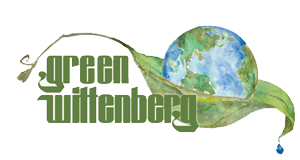 About the Green Greek Program
Each house at Wittenberg is going to have its own particular character, and so one plan for becoming more environmentally friendly won't be suitable for all situations.  With that in mind, we've opted for a point system that allows campus houses to distinguish themselves in ways that best accord with their own particular strengths, resources, and idiosyncrasies.
The Pre-requisites for Green Greek Consideration
Appoint or elect the house's Green Representative (10)
Helping each other reduce our impact on the Earth depends upon communication.  Having a go-to person for each house is key for effectively getting information out to the Greek community and also sharing practical ideas, notable successes, and remarkable failures.  The Green Representative helps a house stay aware of what's happening in the larger campus community and sends monthly email updates on the green activities in his or her house to the Campus Sustainability Greek Coordinator.
Maintain an active recycling program (25)
This is a waste matter, but it's such a basic and significant step in terms of reducing energy consumption, that it deserves to be part of this separate category.  As counterintuitive as this may be, recycling is, first and foremost, a way to reduce energy demands.  While the reductions vary by materials, in the most advantageous situations—typically aluminum—recycling can reduce energy use by as much as 95%.  Also note that, energy savings aside, recycling can help preserve natural habitats since putting materials back into the marketplace reduces the need to mine raw materials.
Visit the Green Greek Point System page for a comprehensive list of environmentally friendly options, and see the Green Greek Standings page for a current list of Green Houses and their initiatives.