The Biosphere and Global Climate Change
"Know thyself", Socrates expounded.  For me that commandment has taken on an expanded dimension: know thy biosphere - the sights, sounds, and smells of the myriad wonder of our very diverse living planet, Earth.  This Earthkeeping ecologist expounds: "Know thy biosphere."
Earth, is the only known planet to us in the entire Universe with a biosphere, a living envelope of millions of unique life forms (species) that enclose the entire planet including the deepest sea, the highest mountain, the darkest cave, the warmest bubbling spring.  Earth's biosphere origin has left a record in Earth's crust for us to discover. Though globally sparse and scattered, a convincing hypothesis emerges.  By a billion years ago life on Earth, now known as the biosphere, developed an operating system featuring 1) cycling systems for all its compositional elements (CHNOPS, shared by all life + a number of elements for specific functions), 2) a solar energy flow system (photosynthesis), 3) a molecular instruction manual (RNA/DNA) for a vast array of operating units (species), insuring reproduction, as well as physical/chemical pathways for cycling, and, finally, 4) species groupings (ecosystems) to accommodate planetary variations from cosmological causes, i.e. orbit, rotation, solar distance, continental drift, etc. Not only did the biosphere finish the birth process; it formed and regulated an atmosphere, a hydrosphere, and a living lithosphere, that continues to insure a favorable climate for life to continue including us. 
Yes, there most likely is a probability that there is another planet in the universe with a biosphere (though I doubt it).  However, isn't it enough to know that we live on what must be a very rare phenomenon in the Universe: a totally living planet – a planet where a few molecules associated with life literally expanded into a biosphere composed of millions of species?  And shouldn't that alone suggest how foolish we are not to suspect that this biosphere is very special.   Planet Earth's biosphere is why we even exist.  All the evidence now suggests that Earth's biosphere and our continued existence depend primarily upon our actions – destroyer or protector?  How can that be and why don't we believe it?
There are two major sources of now circulating greenhouse carbon gas with very different origins -  the biosphere carbon that has been continuously cycling since the fifth major extinction event that  ended the dinosaur era (66 million years ago), and former biosphere carbon that was buried during the earlier 470 – 90 million year period of Earth's tumultuous paleontological past (Story of Earth by Robert M. Hazen). Moreover, it is the older carbon (Yes, the older carbon are the fossil fuels.) that is now being released exclusively by human action.  The carbon dioxide from both sources will chemically participate in the present carbon cycle.  However, the expected carbon balance within the present biosphere is becoming seriously disrupted by the increased carbon dioxide from the fossil fuels; and at the same time the biosphere is being significantly reduced, much of it for wasteful human exploitation (The Sixth Extinction by Elizabeth Kolbert). The increasing carbon dioxide, now above 400ppm, in the atmosphere clearly informs us that the present biosphere is becoming overloaded not only in the air, but also in the water, and soil. Consequences are a too rapidly warming atmosphere, and an increasing acidity of water and soil.  Climate change mitigation is now for us to do the mitigating.  A recent public opinion poll indicates that a majority of us do believe we are the cause of the current climate change, BUT only about 5% believe it to be "extremely important" personally.)  Only 1% has done something about it!  Being among the 1% to paraphrase:  Ask not what the biosphere does for you; ask what you must do for the biosphere. 
 
(1) Stop burning fossils fuels; go solar.  Please, no more excuses.  The fossil fuel carbon now being released by us is essentially "alien", now overloading the present carbon sinks (the atmosphere, the hydrosphere, and the soil).  What can you do now?  Research for yourself, and create from the solar energy options available -  passive solar, rooftop hot water and/or electrical (photovoltaics), and/or electricity from a utility owned solar array, or wind turbines (indirect solar) (check out GreenEnergyOhio.org, locally Jim Groeber of Ohio Solar Electric – much easier financing than I had in the 90's (attachment).
(2) Plant long-lived trees.  While alive, they sequester carbon for hundreds of years, and as useful lumber remove carbon from the biosphere – clearly not a geological timeline, but a good stopgap measure.  And during their lifetime, trees provide infinite pleasures, both practically and visually.
(3) "Green" to a much greater extent the city and suburbs, emphasizing urban agriculture - food production close at hand -, thus significantly reducing fossil fueled transportation and increasing carbon sequestration.  (Lal, Rattan and Augustin, Bruce, editors. Carbon Sequestration in Urban Ecosystems – very technical, but provides significant evidence for the urban ecosystem as a potential carbon sink)
These actions should make evident the need for a major change in our mindset: that is for each of us to become a partner with the biosphere, preserving and spreading diversified biosphere over every available Earth surface, both inside and outside our human population centers.  The potential for climate change mitigation by the biosphere has been vastly underestimated.  For instance recent studies demonstrate that for every human body cell, there are 10Xs non-body cells, mostly microbial, that live on or in us in a beneficial symbiotic relationship. All are participating in the carbon cycle.  Imagine now a global biosphere, in which those species not microbial are actually multiple species (like us), all active carbon cycle participants.  All humans are now needed to incorporate solar (and/or wind, a solar by-product) as a significant energy source, and diversify the biosphere with sustainable rural and urban agriculture integrated into sustainable landscapes.
Impossible, you're thinking? Really, which of the above are impossible for YOU personally to do?  Expand these actions to being done by all Americans, providing the leadership for a now rapidly maturing solar energy economy and future for us and the world.
Life on Earth has survived its cataclysmic past, but most species have not.  Does humanity really want to test if we will be among the survivors under a global climate never experienced by humanity?  Life on Earth is not the worry; it will recover without us, forming a new biosphere. Judeo-Christian scripture proclaimed creation including us very good, and expected us to "keep it"?  Are we not failing?  Is our "dominion" misplaced?  Are we destined to be God's folly? 
Lou Laux, Wittenberg Emeritus Biology Professor                                                                      May 2014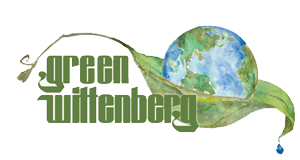 Global Climate Change: Our Carbon Footprint
Reduce your carbon footprint – the current slogan for fighting global climate change, up close and personal.  But which carbon footprint?  We humans participate at two levels in adding carbon dioxide to the atmosphere, now in carbon dioxide "overload": one universal (and natural) to all life on earth, the second distinctively human. 
   Our natural contribution begins with you exhaling carbon dioxide into the atmosphere, joining with that being exhaled by the other estimated 5-10 million species of breathing organisms (including plants) on this Earth.  However, the ultimate carbon contribution (about 50% of the total) comes when it's "ashes to ashes, dust to dust" time, i.e. compost, made possible by a myriad array of mostly microorganisms called the decomposers. It is here carbon recycling really begins!  This natural carbon footprint does not accumulate in the atmosphere, but moves into a cycle of life through the living bodies of the millions of species that make up the estimated 2000+ billion tons of living mantle (45-60% carbon) blanketing the Earth.  This natural cycle is just one of several biogeochemical cycles - truly marvels of God's Creation.
   So what is the question to be asked: if carbon dioxide is part of a natural cycle, essential to the very maintenance of life on Earth both in content as well as global temperature, how can it possibly be considered a global air pollutant!?  Of course, you know the answer – fossil fuel carbon dioxide from our distinctly human carbon footprint. But why a pollutant, if there is a fully operative biogeochemical cycle to incorporate carbon into the mantle of Earth's life?!
     Isn't fossil fuel just old carbon from ancient biomass?  Yes, it is ancient uncycled biomass, fossilized over 100s of millions of years during many of Earth's cataclysmic episodes.  It is estimated there is about 200 times more fossilized carbon relative to Earth's living mantle with approximately 20% higher carbon content because of fossilization. The bad news is that we humans are short circuiting the composting stage characteristic of the natural cycle, and instead substituting direct combustion (think of it as "instant" composting!).  We are overloading the carbon cycle with too much of a good thing, allowing much of the previously fossilized uncycled carbon to accumulate in the atmosphere as carbon dioxide.  However, if that be the case (as the evidence suggests), do we really want to test the hypothesis of initiating a global tropics completely disrupting our temperate food growing zones?  I strongly suggest we do not! 
   However, we should not consider atmospheric carbon dioxide a pollutant.  The element carbon is the chemical backbone for virtually all of the molecules necessary for life on Earth, and carbon dioxide is a major factor in determining Earth's climate. The fact that there is too much of this amazing element is not Earth's problem, it is clearly humanity's problem. (Incidentally, Earth's life will survive just fine without us – our departure may actually prove to be a blessing!) We appear to have made a Faustian bargain – unprecedented material pleasure now for unimaginable future misery. The accumulating scientific data is confirming two defining observations:
Prior to the Industrial Revolution several hundred years ago, atmospheric carbon dioxide concentration may have already been low, actually moving in that direction some 50-60 million years earlier. Sequestering all that carbon over the prior several 100 million years was continually lowering the overall climate temperature, albeit by "fits and starts".
With a massive extinction event of most species 65 million years ago there then occurred a virtual complete turnover of species during the next 50-60 million years. Today's worldwide biodiversity is high corresponding to high ecosystem diversity, most likely associated with the dramatic natural climate changes over the past 50-60 million years. 
Protecting the intimate relationship between climate and the species diversity involved in the biogeochemical cycles (not just carbon) should be humanity's highest priority.  But doing so must not only be ecologically sound, but bring to the task the same human innovative genius that has given us our fossil fuel driven lifestyle and economy.  Those innovative talents must now devote their talents to the only really ecologically sound energy source – the SUN.
   That's the vision. Time is growing short - emerging consensus suggests 10-15 years before the unimaginable climate change consequences become irreversible. All the solar technology we need to get started is available now with much more already visible on the horizon.  Where is the will to move ahead and to insure that our fossil fuel carbon footprint does not overwhelm Earth's life sustaining carbon cycle as well as the other life sustaining biogeochemical cycles?  Nature cannot be expected to correct this mess. Only we humans can do that. In retrospect we made a Faustian bargain – our human creature comfort now for Earth's global discomfort (and ours) later?
  So, WHAT NOW? We must not waste time and money on "clean coal" (an oxymoron), biofuels (overwhelmingly a bad idea), nuclear power (what's new that's good about it?) - all of these are more politically motivated than they are long-term solutions. There is clearly no short-term "magic bullet" but the long-term solution will be a totally solar economy. However, I believe that until each of us becomes personally part of the solar solution, however modest, nothing of significance will happen – so here goes!
 Efficiency, efficiency – we must reset our mindset for maximizing the efficiency of our fossil fuel use.
We can heat our personal water supply with the sun – a relatively inexpensive, effective solar technology now "perfected" over a 40-year period. How about on over 100 million rooftops water being heated by the sun!
We can personally grow food (organically, of course) where we live, support our local "farmer's" market, and compost our kitchen and yard waste. It is estimated that during World War II, 40% of our food was grown in "Victory gardens".  Is not global climate change our 21st century "war" of survival? 
We can generate our own electricity with the sun – a relatively expensive, but very elegant, proven and expandable technology. Wind power (indirect solar) is also now a personal option.
We can reduce, reuse, and recycle (the 3 R's), particularly if our community has an infrastructure for proper collection and disposal of recyclables.
We can eliminate much of the lawn.  Maintaining a lawn requires as much fossil fuel per acre as corn; low energy use substitutes are available. Limit mowed grass areas only for recreational opportunities.
And by all means, we can replace those incandescent light bulbs with compact fluorescents (CFLs).
   All of the above will reduce fossil fuel usage, some more than others. All will alter our mindset and make each of us part of the solution, not the problem.  Will reducing our fossil fuel carbon footprint be a personal "inconvenient truth"?  I suspect so, but at what point in our life does the greater good take precedence over our personal convenience?                          
Lou Laux (Emeritus – '91, Biology) 18 September 2008