Setting The Stage for Success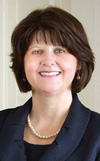 From cell phone calls to colleagues shortly before her flight to Springfield to setting up her office on the second floor of Recitation upon arrival, Laurie M. Joyner, Ph.D., has jumped right into her first presidency – one that will be founded upon Wittenberg's mission and a commitment to student success.
Active and engaged learning not only forms the backbone of a Wittenberg education, but it could also serve as a motto for President Laurie M. Joyner's transition plan as she assumes leadership for Wittenberg University. Deeply committed to understanding the history, culture and achievements of the university from multiple vantage points, Joyner has hit the ground "listening and learning."
Toward that end, Joyner has already met nearly all current board members, a few emeritus directors, and has spent one-on-one time with half of the current directors. She has also met with dozens of faculty, staff and community members, and attended multiple alumni gatherings since March. This week she will be attending the 2012 Harvard Seminar for New Presidents, and later this month she has scheduled a senior staff retreat to explore how the university is delivering on the promise of a rigorous and relevant liberal arts education for the 21st century.  Other topics will include implementing "best practices" to support institutional mission, developing lifelong connections with graduates, strengthening the university's relationship with the Springfield community, and creating a sustainable financial model to ensure the long-term fiscal health of the institution. 
Joyner also wants to ensure that Wittenberg's commitment to its Lutheran heritage is reflected in multiple opportunities for students, faculty and staff to engage in meaningful, intellectual conversations around issues of spirituality.  
"Wittenberg's dedication to helping students discover their vocational calling by exposing them to a range of academic disciplines within a learning community that critically explores issues of faith and reason resonates with me," Joyner said.
At the same time, a priority for Joyner is creating a strong partnership with the Board of Directors based on mutual respect and shared priorities.  Prior to her official start on July 1, Joyner attended a three-day Institute for Board Chairs and Presidents, sponsored by the Association of Governing Boards of Universities and Colleges, with David L. Boyle. 
Designed to enable both sides of an "institution's leadership team to strengthen their relationship to benefit the college or university," the program began in 1985 and has welcomed more 400 teams since its founding.
"I appreciate David's commitment to collaborating with me to strengthen board governance," Joyner said. "He impressed all of us at the Institute with his insights regarding the challenges facing higher education and his passion for Wittenberg. I look forward to an interactive board retreat next month to discuss a number of issues including the state of the university, readiness for the public launch of the comprehensive campaign, efforts to build a sustainable financial model and 2012-13 institutional priorities. I share the sense of urgency and commitment expressed by a number of board members to move Wittenberg forward."