Setting the Stage for Success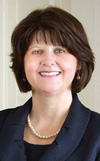 From cell phone calls to colleagues shortly before her flight to Springfield to setting up her office on the second floor of Recitation upon arrival, Laurie M. Joyner, Ph.D., has jumped right into her first presidency – one that will be founded upon Wittenberg's mission and a commitment to student success.
Active and engaged learning not only forms the backbone of a Wittenberg education, but it could also serve as a motto for President Laurie M. Joyner's transition plan as she assumes leadership for Wittenberg University. Deeply committed to understanding the history, culture and achievements of the university from multiple vantage points, Joyner plans to hit the ground "listening and learning."
Toward this end, Joyner is meeting with a range of faculty and staff members, and has scheduled a senior staff retreat later this month to explore how the university is delivering on the promise of a rigorous and relevant liberal arts education for the 21st century. Other topics will include implementing "best practices" to better support institutional mission, developing lifelong connections with graduates, strengthening the university's relationship with the Springfield community, and creating a sustainable financial model to ensure the long-term health of the institution.
At the same time, a priority for Joyner is creating a strong partnership with the Board of Directors based on mutual respect and shared priorities.  Prior to her official start on July 1, Joyner attended a three-day Institute for Board Chairs and Presidents, sponsored by the Association of Governing Boards of Universities and Colleges, with Board Chairman David L. Boyle '69.
"I appreciate David's commitment to collaborating with me to create an effective transition plan and to strengthen board governance," Joyner said. "I look forward to continuing to develop productive working relationships with the full board, campus community, alumni, donors and friends of the university in our collective effort to move Wittenberg forward."