University Honors Women in Leadership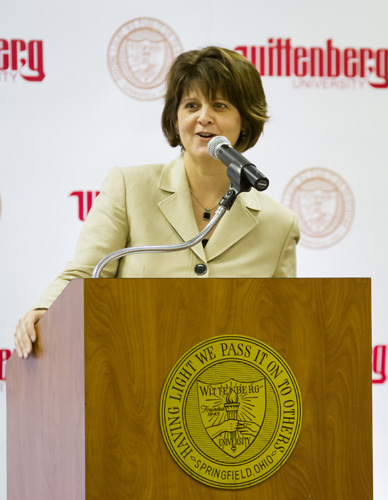 As part of a weeklong series of events, 64 women traveled to campus to celebrate women in leadership at a special luncheon, Sept. 6, in honor of President Laurie M. Joyner's inauguration.
Following an opening welcome from Maureen Sheehan Massaro, associate vice president for human resources, special assistant to the president and chair of the inauguration steering committee, those gathered had the opportunity to hear keynote remarks from Rita Bornstein, president emerita of Rollins College, a mentor and close friend of Joyner's. Bornstein was introduced by Joyner, who previously served in several leadership capacities at Rollins, most recently as vice president for planning and dean of the college.
In her remarks, Bornstein discussed how colleges and universities need to be innovative, entrepreneurial and nimble in order to be competitive.
"A president has to be those things, too," Bornstein said.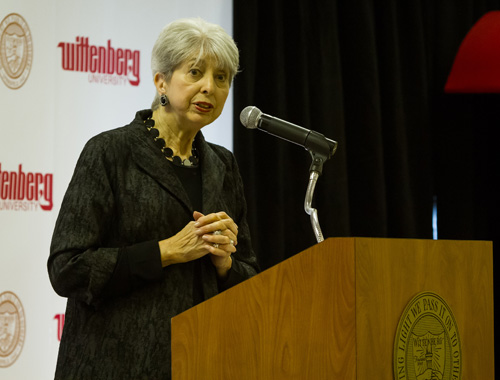 Bornstein then went on to share some advice from her own experience as a president in hopes that it would help those present reflect on how they can best serve President Joyner. Among her suggestions were: (1) share the unique stories of the institution, its culture and history, (2) introduce her to alumni, friends and community leaders, (3) lend an ear, and (4) provide feedback.
Following Bornstein's address, Alicia Sweet Hupp, Wittenberg class of 1982, president and CEO of Springfield-based Sweet Manufacturing, and a member of the university's Board of Directors, then introduced current students, Chaunta Banks, class of 2013, and Amy Stamon, class of 2013, and three alumnae, who are leaving their own mark in the world, including former Ohio Lt. Governor Jennette Bradley, class of 1974, grocery store management trainee Esther Mast, class of 2010, and K-12 education leader Hannah Powell Tuney, class of 2003. Each provided some brief comments about their respective journeys.