Joyner Heads East to Meet With Alumni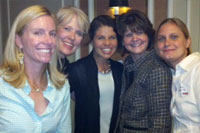 In an effort to continue her listening and learning sessions as Wittenberg's new president, Laurie M. Joyner, Ph.D., recently traveled to Rochester, N.Y., Sept. 18, and New York, N.Y., Sept. 19, to meet with alumni and answer any questions from the university's East Coast constituency.
"I've been most fortunate to meet a number of wonderful alumni, many of whom have quickly figured out that I am a person who encourages dialogue. I do so because I believe that only through dialogue can we find the best path to pursue in terms of alumni engagement and recruitment. Our mission at Wittenberg is too precious, too important to be compromised in any way," Joyner shared with those present at both events. Joyner also encouraged alumni to share their time, talent and treasure at the events.