President Awards Medal of Honor During Annual Convocation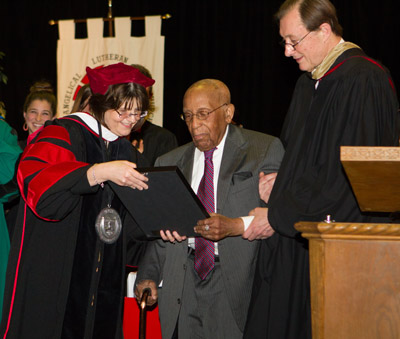 Tied this year to the first-ever "Liberal Arts in Action: A Celebration of Learning," Wittenberg's Honors Convocation, April 12, annually recognizes the academic achievements of students and faculty. This year's convocation distinguished itself even more, however, as the university's highest non-academic award, the Wittenberg Medal of Honor, was presented to 1934 alumnus and accomplished attorney and judge, The Hon. William A. McClain. 
Joined by Board Chairman David L. Boyle '69, President Laurie M. Joyner presented McClain with the Medal of Honor, given to those individuals who have consistently inspired students, alumni and the entire Wittenberg family with their loyalty of service, uncompromising support of the university's mission and values, and commitment to preserving the Wittenberg experience for countless generations.