Milestone Career Moments Honored at Administrative Luncheon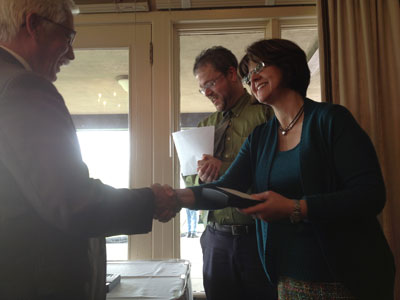 To honor dedicated service to Wittenberg, President Laurie M. Joyner hosted an Administrative Luncheon, April 17.
Those recognized this year for five years of service included:  Stephanie Clark, advancement; Fetneh Ghavami, SCE; Kathy McKee, Health Center; Jeff Roope, athletics; Sean Ross, athletics; Travis Schwab, athletics; and Wendy Smiseck, career services.
Those celebrating 10 years included: Kristen Collier, community service, and Dave Nease, physical plant.
Those recognized for 15 years were: Myke Cooney, IT; Lionel Worman, IT; and Doug Schantz, student accounts.
Celebrating 30 years were Jeff Ankrom, provost's office, and Mark Goheen, physical plant.
Those honored for 35 years included Eddie Chambers, Upward Bound, and Richard York, chemistry/music.
Rounding out the service awards was Ken Benne, advancement, with 40 years.