Giving Thanks
As a community of learners that embraces calling, compassion, creativity, integrity, and service, Wittenberg students, alumni, faculty and staff are taking time to reflect on everything they have to be thankful for at Wittenberg.
Click the photo to the right to submit a note and/or photo that shares what you're thankful for at Wittenberg, and check back to see what your fellow Tigers are grateful for during this holiday season.
---
"I am thankful for an inspiring mission, beautiful campus, award-winning faculty, dedicated staff, talented students, accomplished graduates, and committed board members! I am privileged to serve such a special community as we help students discover their calling and recognize their responsibility to contribute to the greater good." – Laurie M. Joyner, President  
---
"I am most grateful to Wittenberg for helping me understand a world in need of light, guidance, wonder and need. I am grateful for professors who ignited in me a sense of mission and impact. I am grateful for a community which allowed me to meet a wonderful woman, who for over 50 years has been my partner, friend and spouse. I am grateful for an academic community who allowed me, during a six weeks stay at home recover from a hunting accident, to maintain stride in pursuing my education at Witt. I am grateful for a well administered, values driven academic community that keeps on keepin on. I am grateful for so much more." -- Dave Steele '61, Board Member Emeritus
---
"I'm thankful for the natural beauty of the Wittenberg campus.  I am refreshed each day as I drive into work.  Even after nearly 20 years, I will have moments where the beauty of the campus will take my breath away just as I know it does our prospective students and their families.  I'm also thankful for the team of people who keep our campus looking beautiful!"  – Karen Hunt, Executive Director of Admission
---
"I am thankful for the opportunity to work with such amazing alumni, parents and friends who so generously give to our university. I am thankful to work on such a beautiful campus with the most outstanding young people I have ever met!" – Sophia Vandiford, Director of The Wittenberg Fund
---
"I am incredibly thankful for the relationships I have with alumni and parent donors. They truly change the lives of our students through gifts of scholarship."  – Stephanie Clark, Senior Associate Director of Leadership Giving
---
"I am thankful for the chance to belong to an institution with a great mission. It's easy to forget after many years what a privilege it is to go to work every morning and help young people learn to think critically and write clearly, and to discover their potential." – Ty Buckman, Associate Provost for Undergraduate Affairs and Professor of English
---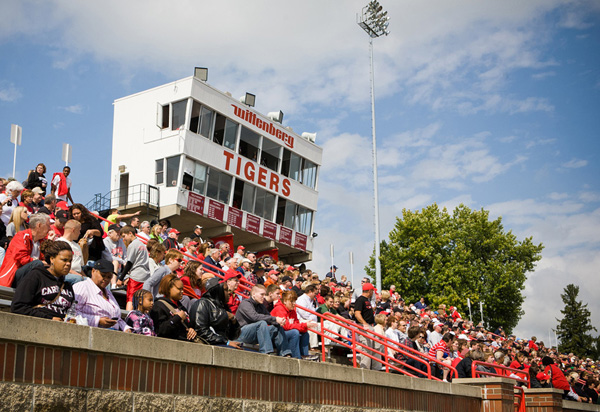 "I am thankful for the warm embrace of the Wittenberg community, a place where my wife and two sons can join me in the pressbox during games, make use of the various athletics facilities, and attend concerts, play and musical events. We are always greeted by friendly waves and wide smiles, confirmation with each 'Wittenberg welcome' that this is a great campus community to raise a family." – Ryan Maurer, Director of Athletic Communications
---
"I am thankful to be a part of Wittenberg's vibrant community of learners, where I can work and learn side-by-side with colleagues and students to help advance our mission, to share ideas, to think big, and to help make a difference." – Karen Gerboth '93, Executive Director of University Communications
---
"I am thankful for the wonderful people: faculty, staff and students, and alumni with the passion for this wonderful place!" – Linda Beals '87, Director of Alumni and Parent Engagement
---
"I am thankful for the opportunity to share the stories of our faculty, staff and students each day. Our campus is blessed with so many hard-working and talented individuals; it is a privilege to work alongside them each day."  – Seth Iiames, Director of Communications and Online Content
---
"I am thankful for the opportunity, even as a member of the administration rather than a professional educator, to interact, share knowledge with, and learn from our incredible students on a daily basis, and for all the memories, experiences and friendships for which Wittenberg has been the backdrop over my last decade as a student, an alumnus and a member of the staff."  – John Strawn '07, Assistant Sports Information Director
---
"I am thankful that I work in a place that encourages students, faculty and staff in thoughtful engagement in all that they do - work, scholarship, relationships, etc. Looking beyond ourselves - at a bigger picture and a bigger purpose - is what makes better lives for everyone." – Beth Hallauer, Honors Program and Math & Computer Science Department Administrative Assistant
---
"I am so thankful that I have a job that enables me to make a difference in our students' lives.  Being part of a team that helps students realize their dreams of an education at a great university is truly fulfilling." – Lynn Thoma, Associate Director of Financial Aid
---
"I am thankful that I have the opportunity to work with such incredible students, staff, faculty, alumni. I feel blessed that I am able to have somewhat of an impact on our student's lives through the work that I do, whether it is through an event I am planning in their honor, or through the work they are doing in my office. I truly love my job. I say all the time that this is my 'dream job.'" – Brandee Bates, Director of Scheduling and Events
---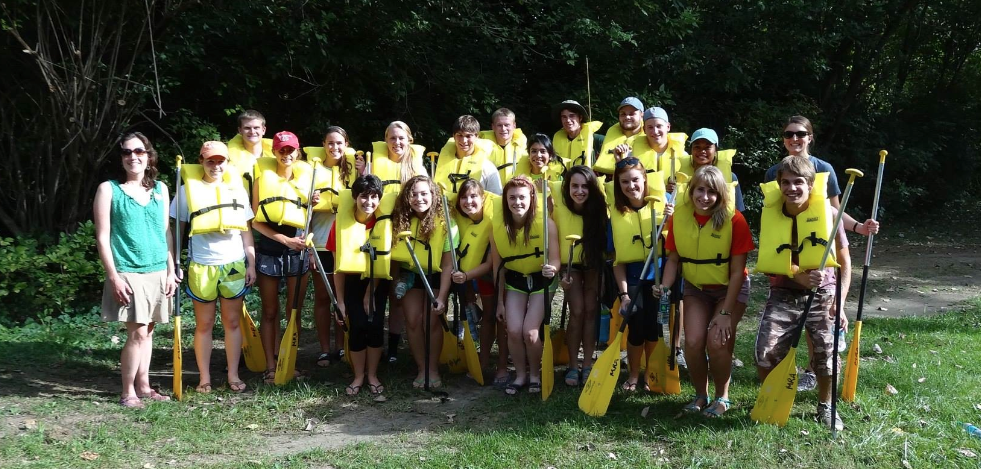 "I am thankful for my students whose energy inspires me to do more.  I am thankful for my colleagues, our staff, and the community that collaborate with and support me. We have made great strides making campus mores sustainable. I have learned from many of you, and see that more is not only possible, but where we are headed." – Sarah Fortner, Assistant Professor, Geology & Environmental Science
---
"I am thankful for the opportunity to help students learn challenging material in class and lab, to share the excitement of chemistry with them and to see what great things they accomplish as alumni." – Kristin Cline, Professor, Chemistry
---
"I am thankful that I every day I get to come to a place that feels like home, to people that feel like family. It's hard to describe the love I feel for a place like Wittenberg. Only those who also feel it will truly understand." – Erin Pence '04, Photographer, University Communications
---
"I am thankful for our friendly campus!  No m
atter where you are walking on campus, there is always someone crossing your path with a smile and a "hello."  I am also thankful for the 4 Paws puppies and trainers.  Having them on our campus makes Wittenberg extra special!!" – Denise Hoendorf '91, Office of Admission
---
"I'm thankful for the inspiration and the enthusiasm of my colleagues, and the great teaching ideas and approaches they share every day." – Pam Schindler, Professor, Business
---
"I am thankful to have Wittenberg located in Springfield as it is a tremendous community asset. I am also thankful for the quality of our students, staff and faculty. Finally, I appreciate the fact that the students are involved in civic activities, especially the work done through the Center for Civic and Urban Engagement." – Andy Bell, Board of Directors
---
"I am thankful for wonderful colleagues and engaged Wittenberg students."  – Rob Baker, Professor, Political Science
---
"I am thankful for the opportunity to work in such a wonderful environment and to make a difference in our students' lives. It is a privilege to be part of this community and work with so many talented, caring people."  – Carol Kneisley, Publications Manager, University Communications
---
"I am inspired and energized by our students who, over the course of four years, grow, challenge, develop, and become confident doers and thinkers who impact their worlds. I am also thankful for the caring, supportive, and intentional community dedicated to providing every student a transformative education in and out of the classroom." --Jon Duraj '09, Associate Dean of Students
---
"I'm thankful for my students.  They make my job feel nothing like work." --Brian Yontz, Assistant Professor, Education
---
"Being part of a community of bright, creative, and dedicated people--support staff, administrators, students, teachers--is a pleasure.  Sharing a campus with so many people who are also working toward a greater good is a privilege." --Rick Incorvati, Associate Professor, English
---
"I am thankful for excellent campus resources like the Writing Center and the Hagen Center, where students, staff and faculty can challenge, inspire, and teach each other."  --Leigh Hall '13, Communications Assistant, University Communications
---
"I couldn't be more thankful for my peers. Every day I am inspired to reach further, dream higher, and open up my heart to those around me. The Wittenberg community motivates me to be a better person. We have a very special group of people here at Witt, and I wouldn't have it any other way. I am also thankful for the delicious W cookies." --Lauren Duraj, class of 2016
---
"The sense of community that brings people together! How everyone looks out for each other and takes care of one another. There's no other community like Witt! Even after graduation, I'm constantly reminded why I'm so proud to be a Wittenberg alumna - it's the great people." --Shelly Gregory '13
---
"I am thankful the amazing opportunities I have been given at Wittenberg University. I am also thankful for the friends I have made and the professors have taught me so much. Thank you Wittenberg!" --Jonathan Mueller, class of 2014
---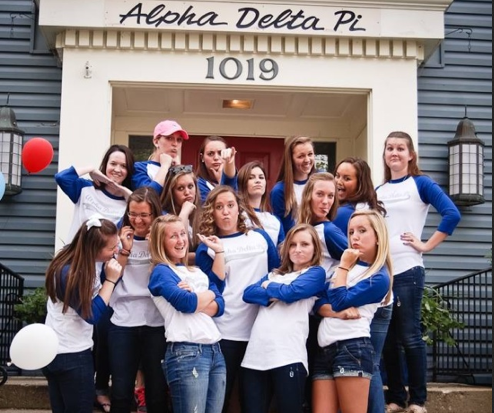 "I am thankful for my sorority sisters at Alpha Delta Pi." --Anna Moore, class of 2016
---
"I am thankful for the amazing relationships I have formed, the experiences I have had, the knowledge I have gained, and my Delta Gamma sisters for being the main characters of my stories over the past 3.5 years. I am so grateful to have had the opportunity to call "the happiest place on earth," my home! Thank you to everyone that makes Wittenberg the fabulous place that it is! Xoxo" --Mallory Roth, class of 2014
---
"Wittenberg University, is a place you call home and can discover wonderful friends among students, faculty, our fantastic president, Laurie Joyner, and the administration. It still amazes me that as an alumna, I meet new alumni and even current students all throughout Ohio. Wittenberg is a big family that sticks with you through thick and thin, and I am proud and thankful to be a part of this family." --Eva Cahill '13
---
"There are many things to be thankful for, but it's the students who make what we do truly worthwhile.  It is a blessing to serve such talented individuals, no matter who they are, where they are from, and what challenges they face – my joy is seeing a face turn from worry about the future to excitement for the possibilities." --Wendy Smiseck, Director, Career Services
---
"As a freshman, it's amazing to think that I just arrived on campus a few months ago. I'm thankful for the friends that I've made and for the connections that I've already been able to make with faculty and staff. It's great to go to a university where you're more than just a student, you're a member of the Wittenberg family." --Troy Weathers, class of 2017
---
"I am thankful for the job that I have, the friendships I get to be a part of everyday, and for our generous donors.  Each day I see the incredible impact our donors have on the lives of our students and the entire campus community, and I am very grateful to be here." --Sherry McNary, Assistant Director of Stewardship, Advancement 
---
"I am incredibly thankful for my home away from home that I share with passionate students and faculty. I am so inspired by everyone around me to be the best I can be and I truly appreciate everyone's love for such a wonderful school. Wittenberg is a pretty awesome family and I wouldn't want it any other way." --Valerie McCandlish, class of 2015
---
"I am thankful that Wittenberg gave me a place to call home for four years, as I grew into a strong young woman, and that the campus community welcomed an 18-year-old mother as a full-time student.  I am also thankful for the outstanding preparation Wittenberg gave me share my passion for history in the classroom.  Finally, I am thankful for a college where not one, but two of my younger cousins have also found their place." --Beth Smith '00
---
"All the lasting and loving friendships that were formed and endure at Wittenberg and because of Wittenberg. It's wonderful to meet new alumni and see the energy and commitment to service that they learn at Witt. Tiger Nation is strong!" -- Ingrid Stafford '75
---
"I'm thankful for a great education which enabled me to go on to higher education and do what I loved, nursing education for 53 years." -- Lois A. (Fleming) Lind '54
---
"The fact that it is in Springfield, Ohio. I could not have attended without the help of the Charles Patterson Scholarship." -- Janet Kelly '65
---
"I discovered "myself", that I could do things I never thought I could do. I learned how to be a leader and a learner, to set expectations for myself that I never dreamed I could accomplish!and to try live life so that I could reach for thosed expectations!" --Jan (Hart) Heinicke '52
---
"I am thankful for professors who listen and guide me in the right direction, the sorority and sisterhood I belong to, and having the opportunity to make lasting memories at such a wonderful place!" -- Rachael
---
"I am thankful for the opportunities I had to study abroad through Wittenberg service trips like Lesotho and El Salvador. I not only learned about myself, but I learned and experienced a culture different than my own. Through these experiences, I found my passion for service and desire to make the world a better place. The people I met, relationships I built, and the projects I worked on impacted my life more than I could have ever imagined and I'm so grateful that Wittenberg provided those opportunities." -- Elyse Cooke '13
---
"This year I am especially thankful for Wittenberg allowing me to meet my wonderful fiancé, Aaron. I could not have asked for a better place to call home for 4 years and it will always have a very special place in our hearts. Can't wait to have our Witt wedding in 2014" -- Jenna Montali '12
---
"On this Thanksgiving I am thankful for two Wittenbergers.
First for my wife Pam (1972 Sigma Kappa) who I was blessed to meet on a blind date, set up by a fraternity brother, on Saturday night November 23, 1968, six days before Thanksgiving, 45 years ago. As that special Saturday evening ended and I said good night to Pam in front of Hanley Hall - I well remember "walking on air" back the two blocks to the Delta Sig house at 809 Fountain Avenue. I knew that she was very, very special and that I would like to date her much more. We did date for the next five years. We have been blessed to be married for 40 years.
I am also thankful for Wittenberg's recent hire of its new Vice President of Finance Rob Munson. I had the privilege to recently work with Rob for 11 years at Xavier University. Rob is an outstanding gentleman with a sharp financial mind but more importantly he is a rock solid good guy. Wittenberg has hired a strong hand to help carry the torch and pass its light on to others.
From a grateful graduate - a Blessed and Happy Thanksgiving to all." -- Greg Park '70
---
"I am thankful for the friendships that I developed during my four years at Wittenberg. Those friendships continue to thrive 40 years later." -- Marc Behrendt, Ph.D. '77
---
"A classroom experience that inspires the mind beyond the material." -- Chebrya Jeffrey '16
---
"I am so thankful for all my friends that I have met at Wittenberg. They have become my second family away from home. I am also very thankful for my sisters at Alpha Delta Pi, joining big blue was the best decision I have ever made." -- Kelly Chamliss '16
---
"I am thankful for the accepting and welcoming environment Wittenberg has. I feel like I finally have a home." -- Christy Manuel ' 17
---
"I am thankful for so many things that Witt has provided me: professors that give up their time to help students achieve their full potential, opportunities that have changed who I am and helped me to make connections with so many different types of people, a school that pushes students to be engaged in their community both on and off campus, for the people who have become a part of my story, and for friendships that will follow me for the rest of the life." -- Emily Bast '15
---
"I am thankful for the professors in the English Department who show us daily what it means to truly delight in books, learning, and the company we keep. I am also thankful for Myers Hall, where I met six friends who have become family to me. I couldn't have asked for a better group to spend four years with!" -- Adrienne Stout '14
---
"I am thankful for the life-long learning skills and friends I acquired from Wittenberg. I am also proud to have participated in the unique and "storied" athletic tradition of Wittenberg. GO TIGERS !" -- Bob Fisher '74
---
"I am thankful for professors who gave me one-on-one attention, and for the many lifelong friends I made there. More importantly, I am thankful for having been introduced to subjects that I had  no idea I would fall in love with!  Our commencement really was a "commencement", as I left Wittenberg ready to take on more studies in subsequent years - each one a new beginning. Happy Thanksgiving to everyone!" -- Carol Purdy '66
---
"Simply, I am grateful for the gift of meaningful work in our world, for my enthusiastic, curious students, and for generous, creative colleagues!" -- Heather Wright, Associate Professor of Political Science
---
"I'm incredibly lucky to work with a never-ending stream of bright students in the full bloom of youth, with all their ambitions and goals and fears and talents and hopes and questions, who magically arrive from all over the country and all over the globe, then just as magically disperse to tackle the world's problems with their energy and skills and love. The opportunity to help such young people discover their passions and learn their crafts is a true blessing." -- Doug Andrews, Department of Math and Computer Science
---
"I am blessed to have friends, professors, and faculty that truly care--they were there for me when someone was very sick in my life. They supported me, understood, and really listened. I am thankful to be at Wittenberg." -- Rachel Steiner, '15
---
"I am truly grateful for my experiences in the liberal arts at Witt because they have served me well professionally and personally, for the dedicated professors who brought so many courses to life, for meeting my future husband on campus, and for the lifelong friendships that were formed during the undergraduate years." -- Donna K. Skaggs Crossman, '65
---
"I am thankful to work in a learning environment which challenges me to be my best possible self.  I am also thankful for seeing the generosity of our alumni, parents and friends who give back to Wittenberg.  I am thankful for tuition remission which allowed me to feed my curiosity." --Cookie Hagerman '13, Administrative Assistant
---
"I am thankful for the amazing opportunity of studying abroad in Germany, for having the wonderful ladies of Gamma Phi Beta to call sisters, and for the Education Department teaching me how to be a great teacher!" --Kearstin Hickey '15