Why Wittenberg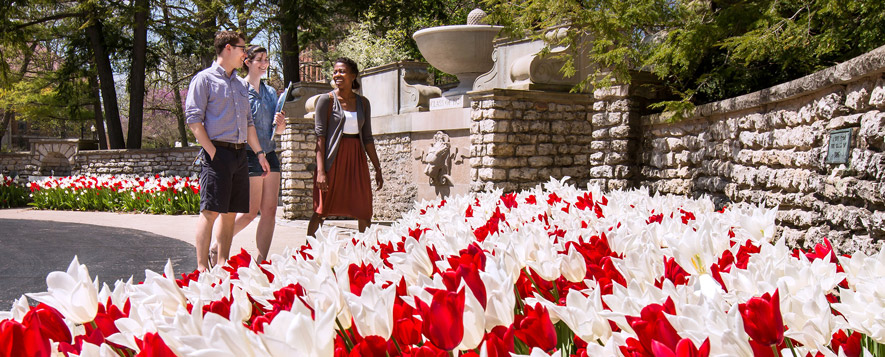 Wittenberg provides a uniquely active and engaged learning environment that instills in its students the skills and confidence to make an impact on the world.
How:
1) Through an applied learning, academically excellent, and engaging experience.
• 11th in nation for "Best Classroom Experience," Princeton Review (2011)
• 4th in nation for "Most Accessible Professors," Princeton Review (2014)
• More Ohio Professors of the Year than any other four-year college or university in the state
• Multiple experiential learning opportunities (field work, student-faculty research, study abroad)
• One of the nation's top producers of Fulbright Scholars among bachelor degree-granting institutions as per the Chronicle of Higher Education

2) Through personal, one-on-one advising and mentoring from dedicated faculty and staff.    
• National Survey of Student Engagement (NSSE 2009) indicates that Wittenberg students report significantly higher levels of interaction with faculty than at similar schools.
• Wittenberg's intentional 12:1 student-faculty ratio encourages mentoring and relationship-building; professors feel responsible for student success.
• NSSE data indicates a significant number of students report developing quality relationships across campus.
• The Higher Education Data Sharing Consortium named Wittenberg No. 40 in the country for outperforming many large research institutions in the number of doctoral degrees earned by its graduates.
• 15th in the nation for "Professors Get High Marks," Princeton Review (2011)
 
3) Through a rich athletic tradition.
• NCAA Division III National Championship in volleyball (2011)
• First NCAA Division II or III football program to reach 700 all-time wins (2011), placing Wittenberg with some of the most storied college football programs, including Ohio State, Michigan, Alabama and Notre Dame.
• Men's basketball team leads the NCAA Division III list of all-time victories.
• Finished 50th out of more than 440 NCAA Division III schools in Learfield Sports Directors' Cup (2011-2012)
• Two-time recipient of the Jostens/National Association of Division III Athletic Administrators Community Service Award 
 
4) Through varied leadership development opportunities.
• Emerging Leaders Program for first-year students
• Ability to develop and run one's own company through WittEntrepreneurs
• 125 campus organizations plus freedom to create your own 
• Vibrant Greek life 
• Collaborative research leading to presentations at academic conferences and publishing of scholarly articles

5) Through the integration of service across campus life and in the local and global communities.
• Recognized nationally for five consecutive years (2006-2010) and again in 2013 and 2014 on the President's Higher Education Community Service Honor Roll for exemplary service efforts
• State-endorsed model for community engagement (Susan Hirt Hagen Center for Civic & Urban Engagement)
• More than 20,000 hours of community service contributed annually by Wittenberg students
• 89th overall among liberal arts colleges and 14th in percentage of alumni who serve in the Peace Corps (Washington Monthly, 2006)

6) Through the development of the whole student within the context of a Lutheran institution.
• Nurturing environment with strong emphasis on values and moral courage
• Commitment to vocation, discovering one's purpose in life
• Campus ministry program with service at its core