Goal A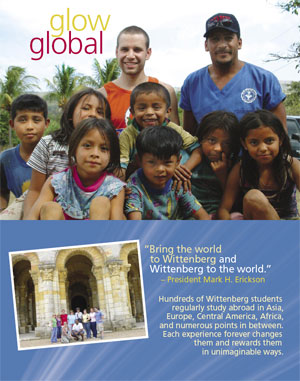 OBJECTIVE 1: Renew the liberal arts core (as expressed in the general education requirements) to ensure it is current to the world in which we live, reflects the priorities of the strategic plan, and reinforces the connection between all majors and "the core."
Redefine the liberal arts core to reflect our educational priorities.
Encourage integrated learning experiences with interdisciplinary work teams.
Review current departmental structures and processes to encourage integrated and cross-disciplinary thinking and to facilitate the development of interdisciplinary majors.
Provide curricular flexibility to encourage multi- and interdisciplinary exploration.
OBJECTIVE 2: Infuse the curriculum with an international perspective.
Provide a study-abroad opportunity for every Wittenberg student.
Increase international internships.
Include a global perspective in courses, majors, and minors.
Explore the development of a global citizenship program that would provide courses, experiences, and reflection for interested students.
Explore the development of an interdisciplinary International Relations program.
OBJECTIVE 3: Supplement the liberal arts core with experiential learning opportunities for all students.
Provide an experiential learning opportunity for every Wittenberg student.
Expand, coordinate, and market offerings of internship experiences.
Expand field experiences.
Expand service-learning opportunities inside and outside the classroom.
OBJECTIVE 4: Strengthen and promote distinctive program opportunities that attract and retain outstanding students.
Provide funds to seed exploration of new and extant distinctive programs that attract students who might not otherwise choose Wittenberg.
Increase interdisciplinary opportunities with East Asian Studies and Russian Area Studies programs.
Strengthen the Honors program and market as a recruitment tool.
Strengthen the Arts programs and enhance their visibility on and off campus.
Strengthen and integrate the Management program with the liberal arts and other disciplines.
Enhance and promote pre-law, pre-health, and pre-ministry graduate school preparation.
Support the enrichment of the computational disciplines through collaborations with organizations such as Wright Patterson Air Force Base and Ohio Supercomputer Center.
Strengthen, differentiate, and promote our School of Community Education.