Plan Implementation Summary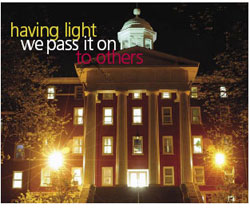 Almost every university has a strategic plan, but far fewer successfully implement their plans. To do so takes focus, energy, stamina, and commitment. At Wittenberg, we intend to ensure that our plan "comes to life." Distinctively Wittenberg: A Vision for Excellence outlines the critical areas toward which we will daily direct our time, talents, resources, and creative energies. Our success in implementing this plan will be evident not only in the large and tangible outcomes called for in our metrics, but also in every nearly imperceptible way each of us thinks, responds, teaches, and leads as reflected by the plan. Simply stated, this plan will inform all that we do.
Implementation Structure
To ensure our success, we have created a Plan Implementation Committee, which will meet monthly to review our progress and communicate our successes to the broader Wittenberg community. This committee group will be comprised of faculty, staff, and students, and will be charged to review and approve recommendations from each of the seven goal task forces.
Campus-wide participation will be achieved through the engagement of additional Wittenberg community members on each of the task forces formed to develop action plans and recommendations for each of the plan's seven goals and all 15 objectives. Where feasible, task forces will consist of some or all of the membership of existing committees or task forces on campus.
Accountability and Communication
Each objective will have a designated owner, a clear timetable for completion, and achievable metrics. The metrics will answer the question, "What is success?" for each objective. The Implementation Committee will monitor the progress of each objective and approve adjustments in timelines and metrics as appropriate. The committee will provide regular updates and progress reports to the campus community, and alumni and friends of the university. The president will provide an annual review of progress against the plan at the May Board of Directors meeting and the year-end faculty meeting.
From Recommendations to Operations
Approved recommendations will be linked to budgeting and operational planning cycles and implemented in light of campus-wide priorities and available resources. Recommendations requiring little or no additional resources may be acted upon immediately, while recommendations requiring significant resources will be included in future targeted advancement initiatives.
Our Vision for Excellence
Distinctively Wittenberg: A Vision for Excellence captures the strategic priorities that will define the University's future. The bold initiatives outlined in this plan will require organizational commitment, focus, and discipline over the course of the next five to seven years. Responsible stewardship of the college will also require significant investments by our alumni and friends in order to realize this vision and secure our collective future. Our upcoming comprehensive campaign must fuel the vision outlined in our strategic plan. Together we will keep our light burning brightly for generations of students who will also come to
reflect all that makes us Distinctively Wittenberg.