Student Involvement Staff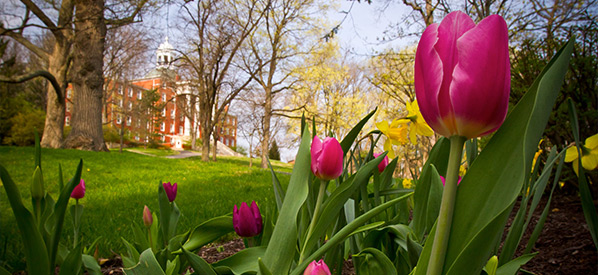 The Office of Student Involvement serves the Wittenberg community as advocates, advisors, and educators for the students and student organizations by providing various services, programs, and experiences to create and foster involvement and leadership opportunities that enhance professional, personal, and educational development in preparation to become contributing citizens of a diverse society. Our staff members are dedicated to helping you feel comfortable and involved during your four years at Witt.
Staff
Jon Duraj
Associate Dean of Students for Student Success & Retention
jduraj@wittenberg.edu

Jon, an alumnus of Wittenberg University, received his B.A. in business/International business concentration, he also received his M.S. in higher education administration from the University of Dayton and is currently pursuing his Ph.D. in higher education administration from Ohio University. Jon enjoys spending time with his family, friends, traveling, and listening to music.

Carol Nickoson
Director of Fraternity & Sorority Life, Director of New Student Days 
nickosonc@wittenberg.edu

Carol is responsible for oversight of Wittenberg's fraternity and sorority community and coordination of the New Student Days orientation program. Carol earned her B.A. in liberal studies: political science and education from the University of California, Riverside (UCR), and M.A. in higher education administration from the University of Redlands. She has served as a leadership program facilitator for several fraternal organizations. Carol volunteers regularly with the Association of Fraternal Leadership & Values (AFLV). She enjoys spending her free time with family and friends, traveling, and cooking.

Elizabeth Ames
Director of Student Activities
amese@wittenberg.edu

In her role, Elizabeth provides administrative oversight and support services to all student organizations and club sports at Wittenberg. She is also the advisor for Union Board, Wittenberg's primary programming organization, and WUSO 89.1FM, the student-run campus radio station. Additionally she manages the operation of and programming for the Benham-Pence Student Center and supervises student staff throughout the facility. Elizabeth earned her B.S. in Journalism and Magazine Editing from Ohio University in Athens, Ohio and her M.A. in Student Affairs Administration for Higher Education from Ball State University in Muncie, Indiana. She enjoys membership with a number of professional organizations, including the National Association for Campus Activities (NACA); Association for Colleges and Unions International (ACUI); and Ohio College Personnel Association (OCPA). In her free time, she enjoys spending time with family and friends, reading, trying new recipes, gardening and road tripping.
Location
The Office of Student Involvement is located on the first floor of the Benham-Pence Student Center just past the Information Desk. We invite you to visit us and explore the many involvement and leadership opportunities available to our students.
Student Coordinators '16-'17
Kyrie Bumpus '17 - Social Media & Marketing
Melissa Latto '18 - Fraternity & Sorority Life
Emily Jenney '19 - Student Organizations
Brittney Stuart '17 - Student Organizations
Corina Cleveland '19 - Club Sports & Recreation Organizations
Kyle Powers '17 - Club Sport & Recreation Organizations