Adrienne
Name: Adrienne Stout
Major(s), Minor(s): English, with a minor in Creative Writing
Standing: Senior – The Mighty Class of 2014!
Astrological Sign: Cancer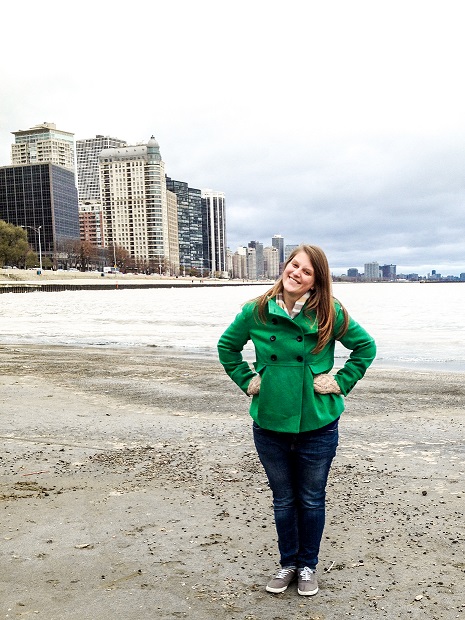 1. Other than class assignments, what kinds of things do you write or have you written?
As a Creative Writing minor, I'm always looking for new and fun ways to tell stories. If I had to choose my favorite genre, it would definitely be playwriting. Dialogue between two people can carry a lot of weight; outside narration is not always necessary. Plus, it's fun to think that actors could bring the piece to life!
2. What piece of writing are you most proud of?
I am really proud of a specific piece of writing that I made in high school. It is a children's book called Buddy the Ballerina, about a boy (Buddy) who abandons his football team to pursue ballet.
3. Where is your favorite place to write?
My favorite place to write is Thomas Library, or any library for that matter. Anywhere covered in books. I don't know if it's a relative lack of distractions or the warm temperature, but my mind gets in a great zone where ideas flow more steadily. I can spend hours writing in the library and not even realize it. Afterwards, I'm usually pretty worn out, but I have a piece of writing that I enjoyed creating.

4. Do you have any interesting quirks and/or routines you follow when writing or when you are preparing to write? What are they?
I have to read my writing out loud. I need to hear how the words sound, not just what they look like. It doesn't need to sound exactly like how I speak, but I think that good, and especially great writing, sounds as beautiful as it looks.
I also listen to Instrumental Folk stations on Pandora. There's just something about that banjo.
 
5. Who is your favorite writer? Why?
My favorite writer (right now, anyway) is Jhumpa Lahiri. I just finished her novel, The Namesake, and I was overwhelmed by the images she created. The story is about a couple from India who move to America, and her storytelling was so smooth and detailed that I could empathize, even though the culture was unfamiliar to me. The best part is that she focuses on small details that tell more about the scene than dialogue or intricate plot points could.
 
6. What was the best writing experience of your life?
Probably when I wrote my children's book in high school. It was the first time I had poured my heart into a writing project. Now, I try to put that much passion into the pieces of writing that I do in college – although, unfortunately, most of these papers don't have illustrations or a rhyme scheme.

7. What would you most like to improve about your writing?
I would like to make every piece a little more unique, more than simply following a "how to write a paper" formula. I think that is what makes papers impactful.
 
8. What advice do you have for other Wittenberg writers?
Take your time-- which also means, start early! Even if you can procrastinate and pull of an "A", you won't feel great about your product. If you write with care and attention (and sleep), you will be much more pleased with all of the decisions you made in order to make your writing work.
 
9. What should students know about you when they come in to visit you in the Writing Center?
If you are excited about your writing and proud of what you've done, I am going to be excited with you. I will also try to ask questions that will make you even more pleased with your product. If you aren't as confident with your work, I want to ask questions that will help you realize how great your paper can be and how to get there. Basically, there will be a lot of encouragement and question-asking.
10. What's the best part about working in the Writing Center?
The Writing Center is one of my favorite places on campus. If you want to be surrounded by hilarious, energetic, talented, and intelligent people who will challenge you and embrace you, the Center is exactly where you should be.