David
Name: David Johnson
Major: English Minors: Psychology & Cinema Studies
Standing: Senior
Astrological Sign: Aquarius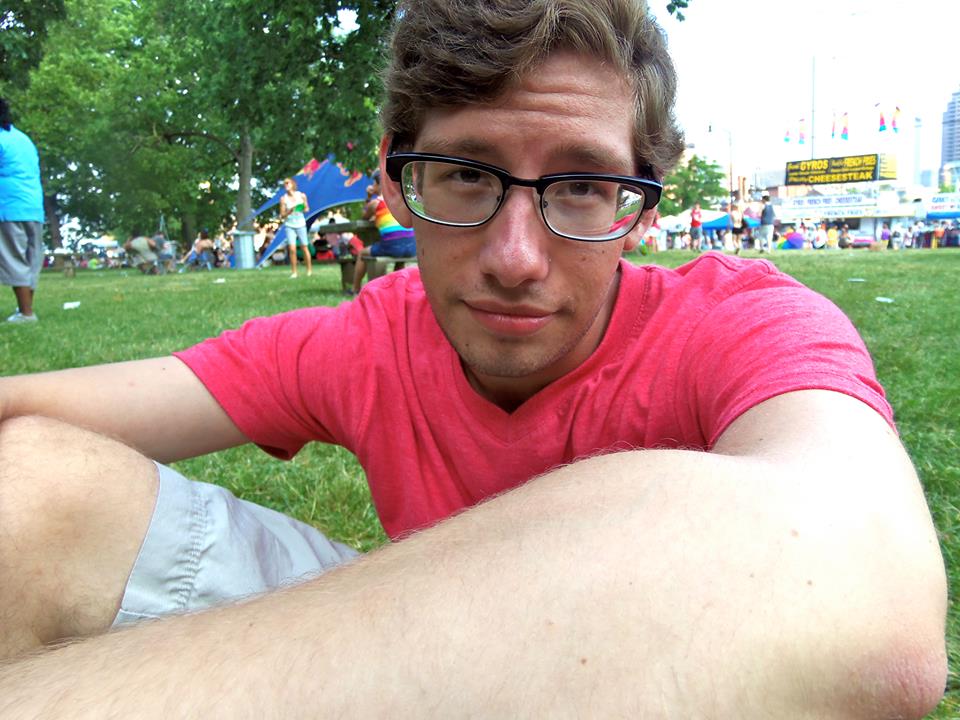 Other than class assignments, what kinds of things do you write or have you written?
I enjoy writing creative pieces, mainly short stories; I also like to dabble in poetry from time to time, but it isn't something that I return to quite as frequently as the short stories. I recently began keeping a blog where I mainly discuss film.
What piece of writing are you most proud of?
I don't know if there is a singular piece in which I am most proud, but I wrote a research essay last semester about how traumatic events can cause a person to create an alternate reality to escape from their trauma. I primarily worked with two pieces: Kurt Vonnegut's Slaughterhouse-Five and Guillermo del Toro's 2006 film Pan's Labyrinth.
Where is your favorite place to write?
I'm pretty much able to write in any space that is relatively quiet, but I usually write in my bedroom.
Do you have any interesting quirks and/or routines you follow when writing or when you are preparing to write? What are they?
I usually just begin writing, as unconventional as that sounds. If there is something that I really like, I go ahead and put it down on the page; even if it may not be something that ultimately works its way into the paper, I now have something that I could possibly use for something else. I'm also not the biggest fan of an outline, but I find simply jotting down notes to be a useful tool in arranging my ideas.
Who is your favorite writer? Why?
Over the years, my favorite book, and therefore author, has been A Wrinkle in Time by Madeleine L'Engle. I first read the novel in the third grade and fell absolutely in love with it, but, since then, I have come into contact with many other authors whose works have captivated my attention. Those include Jhumpa Lahiri (The Namesake), Garth Stein (The Art of Racing in the Rain), Stieg Larsson (The Girl with the Dragon Tattoo, and the rest of that trilogy), and, of course, J. K. Rowling (Harry Potter).
What was the best writing experience of your life?
I began writing a story of the summer and, for some reason that I'm not fully aware of, I typed out a few pages in one sitting; in my creative pieces, I usually have to think on something for a while before I begin typing, but I was able to spit out words and descriptions effortlessly. I'm still working on the short story, but it is, I believe, coming along nicely.
What would you most like to improve about your writing?
I would most like to improve my vocabulary. The English language is full of unusual and often unused words that get lost; I would like to learn those words and inject them into my writing. It not only makes writing more fun, but it also makes reading more fun, too.
What advice do you have for other Wittenberg writers?
Writing is like a muscle: the more you use it, the stronger you become at it. Writing is certainly not for everyone, but everyone can write and continuing to write, more than likely, will make a person a stronger writer. My writing has certainly improved since I have been at Wittenberg, and that's because I have to be fully engaged and consciously write. Writing will follow you throughout your life, so don't skimp on it: it's a mighty tool.
What should students know about you when they come in to visit you in the Writing Center?
I love working with other students on anything they want to work on (be it a class essay or a personal creative piece). I generally like to work with students near the end of the writing process because, as a reader, I like to see if the argument is fully formed. I am, of course, more than happy to work with students during any part of the writing process. I'm here to help and to have a great conversation about any piece of writing you want.
What's the best part about working in the Writing Center?
I love learning about so many different topics; just off the top of my head, I remember learning about everything from King Tut to Sense and Sensibility, from the sea cucumber to theories in education, from psychological experiments to biology lab reports. It's interesting to see what other students are learning and to get a better appreciation for other disciplines. It's also great working with the fellow advisers, knowing that I can always go to a friend whenever I need help with my writing.