Sean
Name: Sean McCullough
Major(s), Minor(s): English and Vocal Performance double major
Standing: Junior
Astrological Sign: Scorpio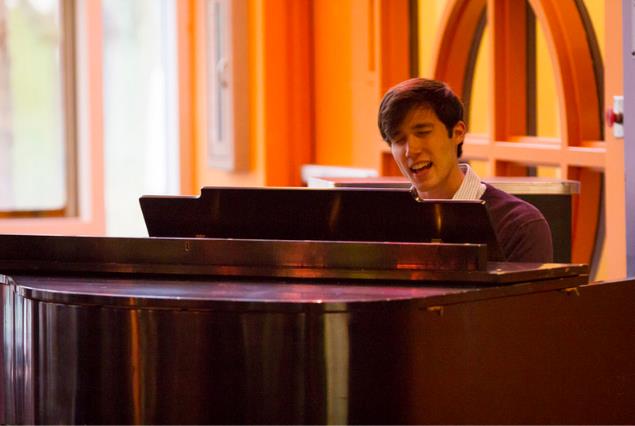 1. Other than class assignments, what kinds of things do you write or have you written?
- Other than class assignments, I write music and lyrics. I have also been working on writing a story.
2. What piece of writing are you most proud of?
- I am most proud of the lyrics I wrote for a song that I just performed recently.
3. Where is your favorite place to write?
- My favorite place to write is at a park or coffee shop. I like to be surrounded by people I do not know, so I can pick up ideas by people watching.
4. Do you have any interesting quirks and/or routines you follow when writing or when you are preparing to write? What are they?
- I usually take a couple books that I have read and write down in a notebook why I like those books based on what the author does and how he or she develops the characters and story. Then I just write and keep going.
5. Who is your favorite writer? Why?
- My favorite writer is F. Scott Fitzgerald. I love what he does in This Side of Paradise. He shifts into a "play" style later in the book, and it blew my mind when I first read it. My favorite book is A Separate Peace by John Knowles though. Anyone who can portray a struggle between two friends as well as he did deserves so much respect.
6. What was the best writing experience of your life?
- The Best writing experience of my life happened this summer when I started writing a new story. The ideas just came to me, and I found it to be quite entertaining. I drew on so many techniques and styles of the authors I love to read.
7. What would you most like to improve about your writing?
- Concision.
8. What advice do you have for other Wittenberg writers?
- My advice is to write. Just get something out there. I think a lot of times students fear writing because they don't feel as if they have the authority to write. We all do. We all have a voice. Use it.
9. What should students know about you when they come in to visit you in the Writing Center?
- I like to talk. I get very excited about papers and how ideas come together. Expect to spend more time talking than actually writing.
10. What's the best part about working in the Writing Center?
- The best part is knowing that all of the people I work with are amazing and will help me with my papers when I need it.