Senior Assistant Director of Admission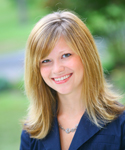 Coordinator of Northeast Recruitment
617.416.2961
abixel@wittenberg.edu
I enjoy working in admission because?
I love Wittenberg. I love everything about it. I had an amazing experience there as an undergrad. I learned it was OK to major in art, I discovered a passion for communication, I was a leader of my class and sorority, I traveled throughout Ireland, and I loved the PEOPLE in every facet of my Wittenberg life. I still do. Each day working in admission gives me the opportunity to share my Wittenberg experiences with high school students so they too may discover their passions through Wittenberg and become part of the Wittenberg family.
 
I am currently based in Boston, Massachusetts as the coordinator of New England recruitment. I am so lucky to have the opportunity to share memories, stories from campus, and my love for Wittenberg with new students every day, spreading the knowledge of Wittenberg to more people in New England and the New York City area. It is truly the best of both worlds: I am attached to Wittenberg yet can get to better know the students I recruit and their surroundings.
 
My favorite place on campus?
The fountain. I think it is one of the most beautiful spots on campus and one of the most beautiful entrances to any college. It represents part of the spirit of Wittenberg: arms wide open and welcoming.
Hobbies?
I love to be around people so two of my biggest hobbies involve volunteering: for The Society of Arts and Crafts in Boston and for Match-Up (a program for the elderly kind of like Big Brothers Big Sisters). I love to paint, read, play the guitar, travel, explore Boston, and spend time with family and friends.
What I look for in a student?
Of course: a high level of academic accomplishment, involvement in school and community programs, a leader, a well-constructed application for admission…
But most importantly: that Wittenberg passion. The spark of energy that will blend into the Wittenberg community yet ignite new flames. The humility to know that the world is a bigger place than one's hometown, the strong desire to want to be educated about it, and the drive to make it a better place.
Someone who I would have liked to be my classmate at Wittenberg!
Quote?
My favorite quote is by artist Betty Edwards: "Drawing is not really very difficult. Seeing is the problem."
But, I love the entire poem "Desiderata" by Max Ehrmann. My favorite excerpt is: "Be yourself. Especially do not feign affection. Neither be cynical about love, for in the face of all aridity and disenchantment, it is as perennial as the grass."