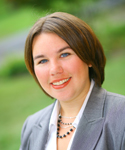 Assistant Director of Admission
Visit Coordinator
937.327.6370
sjusiewicz@wittenberg.edu
I enjoy working in admission because?
The people and the place. I've had the opportunity to meet so many people and hear their amazing stories. Not only do I get to work with prospective students, but also alums and current Wittenbergers. I'm continually astonished to learn about the paths and doors that have been opened to them. They always bring me energy!
My favorite place on campus?
The entrance wall leading into campus. You can climb up, sit and read, or just watch all of Witt go by.
Hobbies?
Water Coloring, Hiking, Biking, Rowing, Kayaking, Traveling, Enjoying a great meal with friends.
What I look for in a student?
First and foremost I look for enthusiasm in a student. One who is eager to learn and has been showing that through a variety of different ways- in the classroom, athletics, music, drama, or community service. So, whether you love a particular subject in school or have started your own charity fundraiser, I want to know that you have been giving your all. Most importantly, don't be shy! Tell us all about what you've been doing, we really do want to know.
Quote?
"I want to be famous the way a pulley is famous, or a buttonhole, not because it did anything spectacular, but because it never forgot what it could do." –Naomi Nye