Laura Pitney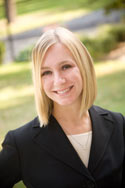 Assistant Director of Admission
Admission Counselor
937.327.6373
lpitney@wittenberg.edu
I enjoy working in admission because?
Each day is different and depending on the season, we're either traveling to college fairs and high schools, reading applications, hosting visit programs or working on office projects, and along the way we are always meeting new people who are interested in Witt. I love that I have the opportunity to introduce students and families to Wittenberg and share why it's such a great place. I also couldn't ask for a better group of people to work with – it's an incredibly supportive and friendly atmosphere and I'm so glad I can give back to my alma mater that gave me so many life-changing experiences.
My favorite place on campus?
The Hollow – it's so beautiful no matter what time of year it is and you'll always find people there playing Frisbee golf, reading, laying out if it's warm, sledding if it's snowy, or just hanging out with friends.
Hobbies?
Dancing, reading, skiing, traveling, baking (especially cupcakes), attempting to cook new dishes, Sudoku, playing the piano, movie nights, shopping on iTunes and watching reality t.v.
What I look for in a student?
Well-roundedness is what I look for in a student – you don't have to be the smartest kid in class or the all-star athlete; if you are passionate about different hobbies as well as academics, that's always great to see.
Quote?
"Life is not measured by the number of breaths you take, but by the number of times your breath is taken away."