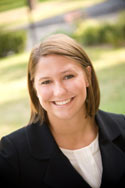 Admission Counselor
937.327.6378
smatesich@wittenberg.edu
I enjoy working in admission because?
I enjoy working in admission because I like to help prospective students and their families learn about all of the exceptional opportunities that Wittenberg has to offer. I had the best four years of my life at Witt and I want that same experience for my prospective students. Choosing a college should be fun and exciting and I am here to provide you the necessary information to make this process as easy as possible!
My favorite place on campus?
My favorite place on campus would have to be the entrance to campus. The beautiful fountain, surrounding grounds, and the nostalgic Myers Hall in the background are a friendly greeting as you stroll into campus. I get goose bumps every time I drive in!
Hobbies?
Cooking… Volleyball or any competitive sport… Sudoku… Intramurals- Go Staff!!
What I look for in a student?
Passion. I look for students who are passionate about learning, getting involved, and/or intrigued to discover who they are and what they want to become. I look for students who have an energy and desire to challenge themselves inside and out of the classroom. Wittenberg has a way for transforming students through unique and distinctive experiences that allow you to discover your life calling. Students who will thrive at Witt express an open interest to explore these opportunities in their desired academic field, in a team or group, or service throughout our global community.
Quote?
"With courage you will dare to take risks, have strength to be compassionate, and the wisdom to be humble. Courage is the foundation of integrity."-Keshavan Nair