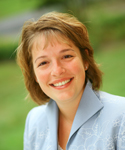 Associate Director of Admission
937.327.6368
lstevens@wittenberg.edu
I enjoy working in admission because?
The long-lasting relationships we form with students who choose Witt. I love to see a student go through the college search process, choose Witt, and graduate four years later. What a neat thing to watch a student develop from being a 17-year-old high school student to a 22-year-old adult!
My favorite place on campus?
My favorite place on campus is Post 95 because you can see so many people in a short amount of time.
Hobbies?
I enjoy cooking, running, watching my husband's football games (he's a high school football coach), and of course, playing with our three little ones, Maddie, Joe and Gracie, and our two dogs, Otis and Julia!
What I look for in a student?
The first is obvious – academic strength. Secondly, I look for a student who will come to campus, get involved, and make a difference whether in activities, service or athletics. Finally, kindness and sincerity in a student goes a long way.