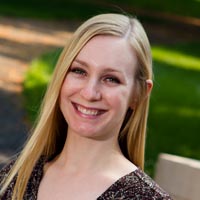 Contact Information:
Cell: 937-478-8949
pitneyl@wittenberg.edu
I enjoy working in admission because?
I love that I have the opportunity to introduce students and families to the Wittenberg experience. The college search process can be exciting and fun, yet overwhelming and intimidating all at the same time. I enjoy building relationships with prospective students and helping them navigate the admissions process.
My favorite place on campus?
It's hard to pick just once place! I love the entrance to the campus and the fountain. I also love the hollow. The campus as a whole is always so beautiful and simply feels like home.
Hobbies?
Spending time with my husband and our daughter is my favorite thing to do! Other than that, I enjoy running, biking, reading, skiing, scrapbooking, traveling, trying new recipes, and exploring new restaurants.
What I look for in a student?
I look for well-roundedness in a student. If a student demonstrates compassion toward others and has an open mind, I know that student will thrive at Witt!
Quote?
"Twenty years from now you will be more disappointed by the things you didn't do than by the ones you did. So throw off the bowlines. Sail away from the safe harbor. Catch the trade winds in your sails. Explore. Dream. Discover." - Mark Twain