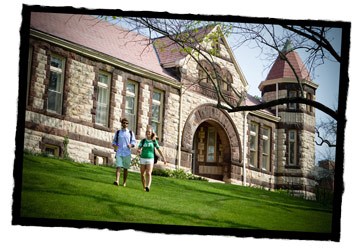 Welcome to Wittenberg. As one of many key influencers in the college selection process, you provide tremendous insight and advice to students as they look to choose the best-fit college. At Wittenberg, we take the role you play very seriously, which is why we have consistently welcomed high school guidance counselors from around the nation to tour our top-ranked campus. The positive feedback we receive year after year from you is incredible, and it has helped to inform our campus visit experience.
Our goal is to keep you informed and engaged with the Wittenberg experience, which is why we will periodically send e-newsletters designed to give you an overview of the activities taking place at Wittenberg, one of America's top liberal arts institutions. We also
encourage you to continue to check out our Web site for updates, or click here to
contact the admission counselor for your school. 
Thank you again for encouraging so many young people to consider Wittenberg.
Secondary School Report
Access Secondary School Report Form here. Complete and return to the Office of Admission by fax at 937-327-6379 or by mail at
Wittenberg University
Office of Admission
P.O. Box 720
Springfield, Ohio 45501
If you have further questions about SendEDU, please email contact@sendedu.org or call 855-SEND-EDU.