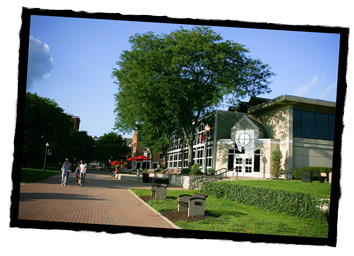 In conjunction with the newly formed Center for Civic and Urban Engagement, Wittenberg University is pleased
to offer the Civic and Urban Engagement Scholar Award. By strengthening Wittenberg's relationship with the
Springfield community, the Center's goal is to develop resources with the potential for significant, lasting, positive
impact in Springfield while providing exciting, new and expanded opportunities for experiential learning for
Wittenberg students.
As a Civic and Urban Engagement Scholar, you will have the opportunity to develop creative solutions to major challenges facing the greater Springfield community. Working on projects of your choosing will allow you to explore and foster your own personal interests while at the same time build practical experience and professional development that you can take with you into the workplace as a Wittenberg graduate.
You will be immersed in Springfield, interacting with a broad cross section of the community including business,
government and community leaders, non-profit agencies and individual residents. As a Wittenberg student, you are
able to lend unique expertise, creativity and energy to community projects, and this scholarship will provide you with
the chance to apply the knowledge you have gained and the skills and abilities you have strengthened during your
time spent at Wittenberg.
Criteria: The Center for Civic and Urban Engagement offers up to 4 four-year scholarships to students who
demonstrate a high school cumulative GPA of 3.0 or above, assume leadership roles in the organizations and groups
to which they belong, demonstrate an interest in key civic and urban issues through direct involvement in their
community, and exhibit critical thinking and problem solving skills.
Amount: $2,500 per year or $10,000 over four years
Guidelines: Student must submit both the Application for Admission and the Civic and Urban Engagement Scholar
Award application by the Early Action deadline of December 1, a letter of recommendation from someone familiar
with your leadership and community involvement and a personal essay that answers the following: What interests you in the Civic and Urban Engagement Scholarship? Why do you believe community engagement is important? What skills or accomplishments do you possess that set you apart from other applicants? What personal goals do you hope to accomplish by becoming a Civic and Urban Engagement Scholar?
Candidates of interest will be selected for an interview.

Expectations: Civic and Urban Engagement Scholars serve as campus leaders to promote community engagement
opportunities and involvement among students. Scholars will complete one project each year (to be completed
in either the fall or spring semester) in collaboration with the Springfield community and one of the Center's
four strategic initiatives. Scholars who choose to apply for the Summer Community Internship Program and/or
employment with the Center for Civic and Urban Engagement may be given preference over other applicants. If all
expectations are met, the award is renewable annually based on maintaining a 2.75 GPA and good academic standing and social conduct.
Questions: Contact the Office of Admission by phone, toll free at (877) 206-0332, or by e-mail at admission@wittenberg.edu