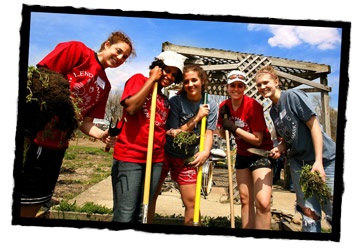 I came to Wittenberg initially for its Community Service Scholar Program—little did I know it would lead to so many more opportunities and a new community to call my home. The Community Service Scholar Award allowed me to become an engaged member of this community from day one, not just a four-year visitor. The bulk of my service experience has been with a program called Girl Power, an afterschool program for at-risk middle-school girls that focuses on health, beauty, fitness and self-esteem. Since I am so grateful for the many female role models I have had throughout my life, Girl Power is the perfect way for me to give back. Through the program, the girls and I are able to share our struggles, successes, good days and bad. Not every day in the life of a teenage girl is easy—but it's always better with a friend by your side. The girls teach me the value of overcoming hardships and becoming the person you want to be despite all odds.
Not only did the Community Service Scholar Award (CSSA) increase my love for service but also gave me the ability to pass it on. Scholars at Wittenberg serve as advocates of action for all—experiences like the one I've had are too valuable not to share. Seeing the way in which service changes lives on both ends of the spectrum is very apparent here at Wittenberg; we see it every day. The CSSA has allowed me to make change and be changed. What I learned during my time as a Service Scholar will follow me well beyond my time at Witt.
-Leslie Chasteen, '10
Mission: The Community Service Scholar program supports the Wittenberg mission by engaging student scholars in
service to the community, developing in them a deeper sense of social awareness, increasing their understanding of
service and leadership that advances the common good, and helping them to discern their calling.
Criteria: The Community Service Office offers 10 four-year scholarships to students who have maintained a
cumulative high school GPA of 3.0 or higher, demonstrate a sustained commitment to community service, and take
initiative and leadership roles in conjunction with their service.
Amount: $2,500 per year, or $10,000 over four years.
Guidelines: Students must submit both the Application for Admission and the Community Service Scholar Award
application by the Early Action deadline of December 1, along with a letter of recommendation from someone
familiar with the student's service involvement, and exhibit the criteria stipulated. Upon acceptance to Wittenberg
University, finalists will be selected for an interview.
Expectations: CSSA winners must complete 20 hours/semester of service to the greater Springfield community, participate in educational and enrichment activities, serve as an advocate for community engagement on campus, and reflect on the connection between their experience and the liberal arts education. If all service expectations are met, the award is renewable annually based on maintaining a 2.75 cumulative GPA and good academic and social standing.
Questions: Contact the Office of Admission by phone at (877) 206-0332 or by e-mail at admission@wittenberg.edu.