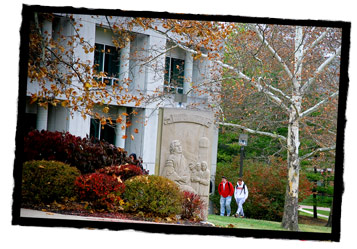 It is our pleasure to extend an open invitation to you to come for a campus visit. We offer a wide range of activities for prospective students and their families to partake in while on campus.
A visit to Wittenberg gives prospectives the opportunity to experience Wittenberg's academic and social atmosphere firsthand. The insights gathered on such a visit help many applicants to decide whether Wittenberg will suit his or her undergraduate educational needs.
Although visits can be scheduled anytime during the year, prospectives are encouraged to visit the campus when the university is in session. In addition to an interview and campus tour, a visit may include an opportunity to attend a class or to talk with a professor or a coach. Applicants with special interests should make them known to the admissions staff so that the visit can be made as informative as possible.
Wittenberg hosts overnight visits for seniors who have applied and been accepted to the university. Please call to arrange your visit.
If you have any questions concerning International Education please contact the Admission Office at internationaladmission@wittenberg.edu