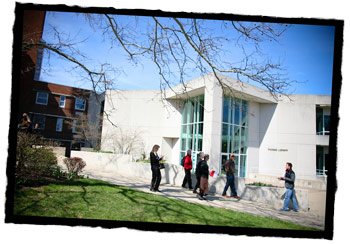 We're glad to hear you are considering a visit. Our campus has been widely acclaimed for its beauty and award-winning architecture, and we think you'll agree that it's one of a kind.
Visit Wittenberg Any Day
Special Programs
In addition to a tour, your daily visit includes time for you and your family to meet with an admission counselor. We pride ourselves at Wittenberg on providing you with personalized attention, and we would be happy to tailor your visit according to your academic interests and extracurricular activities. This list provides you with some ideas of additional activities you might participate in during a daily visit.
Meet with one of our distinguished professors one-on-one.
Observe a class firsthand to see a Wittenberg education in action.
Talk with a coach to discover what makes us the winningest program in NCAC history.
Get answers to all your financial aid questions.
Enjoy lunch on us in our newly renovated student center dining room.
Attend a university-sponsored event.
Learn more about student life on campus.
During the academic year, the Office of Admission is open most Saturday mornings. Your visit will include a campus tour and an interview with an admission counselor. As Saturdays are our most popular visit days, we encourage you to schedule your appointment as soon as possible. Please see Saturday tour times listed above.
Schedule a Visit by Phone
If you would care to schedule an appointment with our office, please contact us:
(877) 206-0332
admission@wittenberg.edu