Wittenberg University Welcomes The Fisk Jubilee Singers Feb. 13

The 2013-14 Wittenberg Series presents An Evening with the Fisk Jubilee Singers at 7:30 p.m. Thursday, Feb. 13 in Weaver Chapel. A Master class will also be held at 4 p.m. in Krieg 300 before the performance in Weaver Chapel.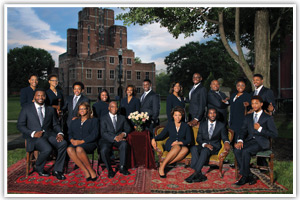 The Fisk Jubilee Singers travel worldwide with a variety of vocal artists and students from Fisk University in an effort to uphold Negro Spiritual musical traditions. The group was started in 1871, and by traveling the world in the late 19th century, the group of singers were able to tear down racial boundaries while raising money for their school.
During their time on tour, The Fisk Jubilee Singers have performed for various Kings and Queens of Europe. In addition, PBS produced a documentary series on television that featured The Fisk Jubilee Singers. WGBH/Boston produced the award-winning series.
In 2007, The Fisk Jubilee singers were invited by the U.S. Embassy to travel to Ghana to celebrate the 50th independence anniversary of the Golden Jubilee. In 2008, George W. Bush presented the Fisk Jubilee Singers with the National Medal of Arts, the nation's highest honor for artists.
As they continue to sing the Negro Spiritual, the Fisk Jubilee singers provide insight to the culture that coincides with it.
In its 31st year, the Wittenberg Series continues to bring distinguished lecturers and performing artists of national and international prominence to the Wittenberg campus and Springfield community. To make special arrangements, reserve a Series poster, or become a friend of the Wittenberg Series, call 937-206-3539 or send an email to jfox@wittenberg.edu.
Publish Date:
Wednesday, February 5, 2014