Integrated Media Corps Hosts Open House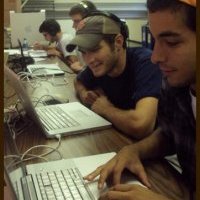 Integrated Media Corps is a co-curricular initiative with the goal of providing opportunities for students to gain hands-on media productions experience.  Junior and senior students from any major are eligible for the program. The Corps will be hosting an open house on Tuesday, Feb. 7 at 11:30 a.m. in Hollenbeck Hall room 336.
The program presents students with the chance to work both as part of a team and
Clark Goodman ('12) and Christian Stringer ('12) create YouTube highlights at a basketball game
individually to produce audio, video, and written materials for Wittenberg's various media platforms.
"We're trying to give students the ability to see the opportunities out there in the media field," said Matthew J. Smith, Associate Professor of Communication and academic advisor for the Integrated Media Corps.
Current Integrated Media Corps students have had the opportunity to meet with the sportscasters from WDTN-TV, radio station managers and media sales specialists from the region to learn about the career opportunities in the media field.
"Since joining the corps, I have become very familiar with different types of software, including UStream (used for streaming live video), iMovie (video editing) and Audacity (audio editing). This internship has opened many doors that will help move me into the position I want to be in when searching for a career involving media," said Ben Groff, current member of the Integrated Media Corps.
Integrated Media Corps students are paid for their work, up to ten hours per week. Students are also required to attend a weekly staff meeting to talk about assignments.
Students interested in learning more about Integrated Media Corps are encouraged to attend the open house. Applications will be available soon for students interested in the program. Selection criteria includes strong writing and editing skills, ability to work independently and as a member of a team, and a willingness to accept a variety of assignments in all of the elements of the internship (e.g., writing, video, editing, audio recording).
By Shelly Gregory ('13)