Professors Attend National Communication Association Conference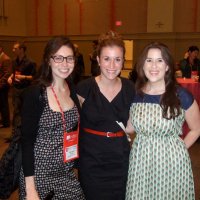 Drs. Cathy Waggoner and Katie Warber attended the 2012 National Communication Association conference in Orlando, FL from Nov. 17-20. The conference serves as a great networking opportunity for those in the field of Communication studies as well as a chance to present research.
Warber presented with researchers Dr. Jessie Fox and Dr. Jeremy Osbourne on their findings about the new dialectical tensions in relationships because of Facebook technology. According to Warber, the research is about how online and offline identities have become more difficult to navigate.
Waggoner chaired a session with fellow prominent researchers in the field of gender communication, including Julia Wood and Bonnie Dow. The session was a continued discussion from last year's conference about feminism and how to live as feminist scholars in the field of Communication.
"I also gave a paper on Mississippi research about class and place and how those intersect at the Shack Up Inn," said Waggoner. "I talked about the notion of signifying looking at how irony is played out in race and class."
Waggoner also made "research breakthroughs" on her latest book project about Mississippi, which she hopes to have completed soon. But undoubtedly, the best part of the trip is reconnecting with former students.
"It was great seeing Witt students that I've taught now attending NCA," said Warber. "This was the first year I saw my former students as grad students."
Former students in attendance included Dana Makstaller ('12), Katie Nemeth ('10), Kelley Hunter (Buehler) ('08), and Laura Russell ('04).
"Seeing students is great, but it's odd to be old enough to have your students be professors," said Waggoner. "But I really get a sense of pride from seeing students. They're so fun to be with."
"Waggoner and I had a few proud moments at this conference," added Warber. "It's like watching your babies grow up and fly."
The Wittenberg Department of Communication was well-represented at the 2012 NCA conference. For more information on the conference, visit natcom.org.
By Shelly Gregory, 2013